Retired ~ Union Inn TT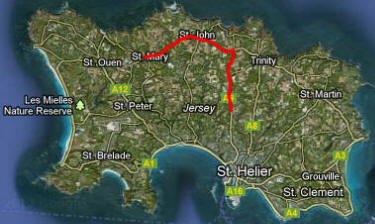 Course Description
This much missed, classic course, started atop Queens Road hill, at the Union Inn car park.
3, 2, 1, Go! Heading north, you'd roll out from the start trying to get your 3 kilo Mavic Challenger Disc up to speed on the ever increasingly steep, long, false flat to Haute Croix junction. Before then, around a mile in, you pass through the hamlet of Sion and within 20 metres of the geographical, ancient centre stone of the island. With all the land reclamation going on, I think the exact location's shifted a little these days, but back to the task in hand.
You ride two miles uphill, turn sharp left at the crossroads, the highest point of the route, then ride three miles west until you get to St Mary's. There used to be an AA phone box at the junction before the Ecole Francaise, that marked the turn. But now everyone has mobiles; another landmark lost.
Do a "uewy" at the pub junction, and scream east, back to Haute Croix which now has a small "open all hours" supermarket on it. Hence the "retired" tag. Head south, downhill, with a tailwind, to finish back at the Union.
It used to be a rollercoaster ride of a lifetime; especially with an alloy disc, on a lo-pro frame, with a super stiff, radial laced, 24 inch front wheel and your nose four inches ahead of the front hoop. The sensation of speed was very apparent; not like the magic carpet ride we get now.
I once caught my minute man at Haute Croix on the way back, just as he caught his! It then became a 30 mph, three abreast, smash to the line between myself, Nick Smith and Pat Byrne. The good old days...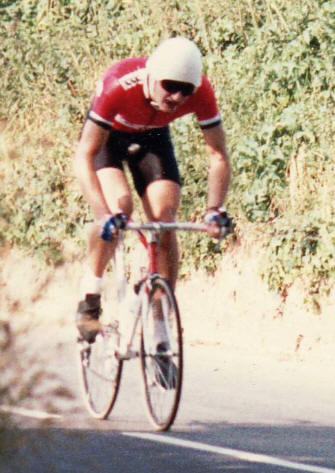 You needed to be flexible (and brave) to ride these bikes