Time Trial ~ Short Island Games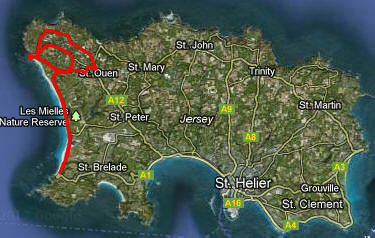 Course Description
This is the shortened version of the Island Games TT Course, that misses out the Corbiere Loop which makes it ideal for mid-week events. It meets at the "normal" La Pulente HQ, which is the car park at the southern tip of the bay. The start line is painted on the ground alongside the huge tree at the car park exit.
From the start, fight the "usual" headwind and head north to the Goldsmiths, turning up towards Hydrangea Avenue where, at the bottom of the climb, you turn hairpin left towards L'Etacq. Head out to, then go around the point, to retrace your route back to the bottom of Hydrangea.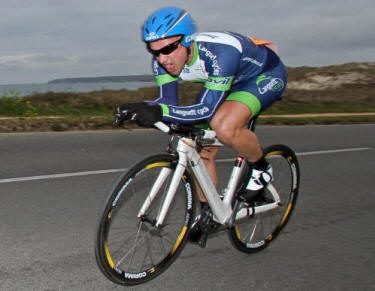 Langsett Cycles' Danny Lowethorpe with L'Etacq in the background
Photo ~ John Ovenden
Head up the hill and half way up, take the hairpin left to the Battle of Flowers Hill. Carry on to the junction, take a left and continue on to the (reverse) Bal Tab Circuit.
Follow the road right on to the headland at the top of L'Etacq, don't take the cut-through! Sharp hairpin right, up the snappy hill, pick up the circuit again until you get to Six Boules, where you head for the Shire Horse Farm.
Right on to Hydrangea as usual, head back straight down the hill and back in to, and along, the bay. Retrace your wheel tracks until you get to the finish line at La Pulente.
Due to the nature of this "much used" road section, and to prevent needless replication on other courses, there are just two significant EFR ~ Segments on this course...
▼
Segment 1
is the Stinky Bay Loop!
▼
Segment 2
covers the Battle of Flowers Climb