December ~ Undulicious...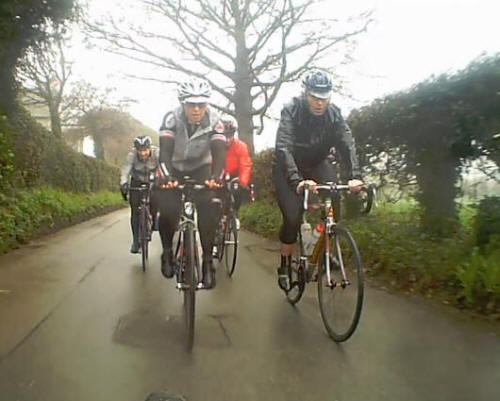 At least the rain stops you overheating...
Louise Shaw & Simon Perchard, followed by Ruth Lea & Nick Thompson...
Depart Time
Sat/Sun ~ Two Groups leaving at 8:30 sharp.

Ride Activity
Undulating Road Rides ~ Slow, steady, moderate, overgeared climbs.
With Slacktober and Slowvember base preparation behind us, now we can start to train! As I type, the first day of the race season is a 100 days away. All the preparation to train is completed, so now we look for "little hills" upon which we can train, not race.
It is soooooooo important you do this right. We're not racing the climbs, we're riding them. The idea is to spend as long as you can on each climb, by riding it over-geared, to build leg and core strength.
If you're approaching a "three minute climb", don't race up it to set a Strava PB in two minutes; ride it slowly, over-geared, and take four minutes to get up it. That way, you get a 50% increased training adaptation for each climb you do!
Between now and the season start, we'll be climbing around a hundred hills. Imagine the improvement a rider who spends 50% more climbing time will gain over the riders that "race" up the climbs and have to wait for everyone at the top. Take a moment to let that sink in...
You can get your speed fix in the Classics Circuits, later in the programme. For now, and for next month with the big climbs, it's strength building and more tempo work in between the lumpy bits...
▼

Dec 8th & 9th ~ Undulating Elite


▼

Dec 15th & 16th ~ Undulating Pro


▼

Dec 22rd & 23rd ~ Undulating Champ
▼ Dec 29th & 30th ~ Undulating Elite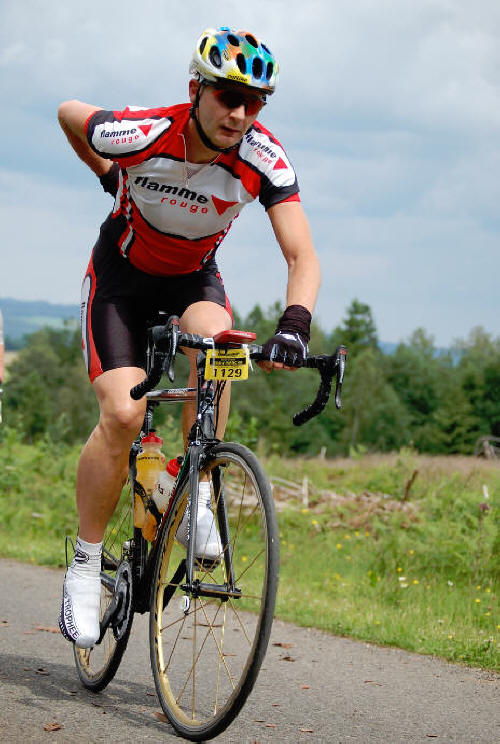 you can even try it one handed if you wish
Gran Fondo Eddy Merckx ~ deep in the Ardennes...
The Route
First "warm-up" climb, is St Aubin's Hill. After that they come pretty regularly. All climbing should be done seated and slightly over-geared to build leg and core strength.
Each week we add a little mileage and a few more climbs.
If, depending on your key objectives, you want or need to add further distance, once we split, head out west for Bal Tab and la Pulente.
Still mainly in zone Two, with structured forays in to Zone Three as we train the heart for what's to come later...
Remember, we're not racing, but now we are training to race. We are continuing to develop our aerobic and cardio capacity, but are now creating the metabolic pathways and encouraging muscle development. So steady on the flat bits, controlled aggression on the lumpy bits.
Just stay as long or as little as you want or need. Normal rules apply!

The main, but basic, route directions and climbs are in the description of the link, please take a minute to have a look, it could save you a big chase over one of the weekends!
The distance and time in the graphic above does not include getting to and from the ride start and finish, so plan accordingly!
Click the map above to be taken to the route for each week's ride.

---
Upcoming Ride Weather
---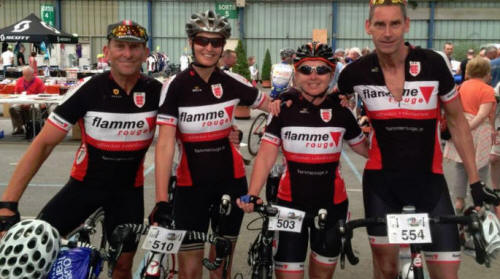 flamme rouge ~ Bucks Fizz Tribute act
Gunsite Gregario's ~ Gelato Ride
Depart Time
Every Wednesday 9:15 sharp, weather permitting!

Ride Activity
Performance Top Up ~ Just riding with mates, but with a purpose...

Performance Level
Ninety minutes tempo-ish, with a few "spirited lunges"...
---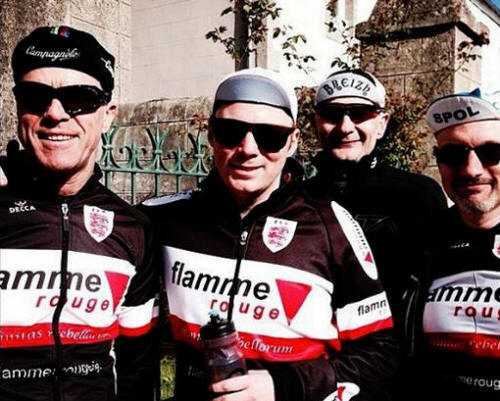 flamme rouge ~ Boy Band tribute act; Fake That
EFR ~ Gunsite Grupetto Activities
Here's what the 105+ local Strava members of the Gunsite Grupetto have been getting up to this week...
EFR ~ Global Grupetto Activities
Here's what the 520+ global Strava members of our our family have been getting up to this week...