Time Trial ~ Full Island Games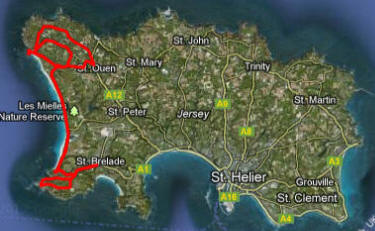 Course Description
The Island Games TT Course, was first used for the 1997 Island Games. Another west-of-island venue, it starts at Red Houses and heads to La Moye to drop down past Corbiere Lighthouse. Continue around the loop, climb out the bay to La Moye Garage and turn left to head down La Pulente and along the Five Mile Road in St Ouen's Bay.
Head up Hydrangea Avenue and, at the bottom of the climb, turn towards L'Etacq. Head out to, then go around the point, to retrace your route back to the bottom of Hydrangea.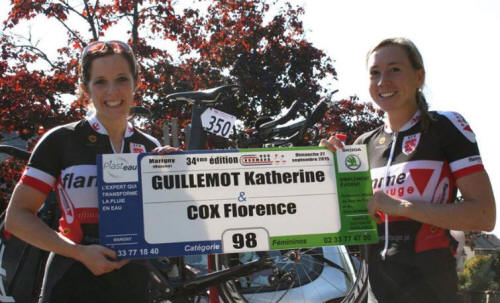 Kat (l) & Florence (r) ~ Duo Normand ~ 2-up TT
Rich Palmer heading to victory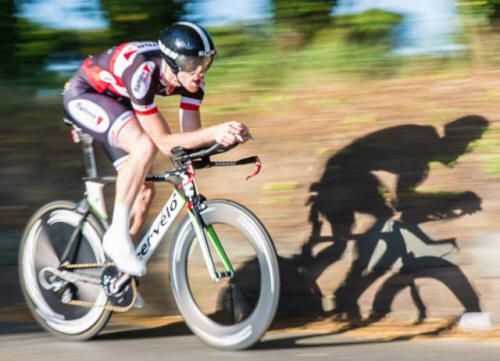 Head up the hill and half way up, take the hairpin to the Battle of Flowers Hill. Carry on to the junction, take a left on to the Bal Tab Circuit (in reverse),
Follow the road to the top of L'Etacq, sharp right, pick up the circuit again until you get to Six Boules and head for the Shire Horse Farm. Pick up Hydrangea as usual, head back straight down the hill and back in to, and along, the bay. Retrace your wheel tracks until you get to La Moye Garage, take a left and go route one back to the finish line, full steam ahead.
Again, a windy, lumpy circuit. To disc, or not to disc? That is the question. Meeting point is usually the car park at Red Houses junction, where there's a public toilet.
There are four significant EFR ~ Segments on this course...
▼ Segment 1 runs from the start to the Battle of Flowers Hill junction

▼ Segment 2 runs from the junction back to the finish line at Red Houses

▼ Segment 3 L'Etacq Headland and covers the in and out of the turn
▼ Segment 4 covers the final kilometre to the finish