Time Trial ~ St Ouen's - St John's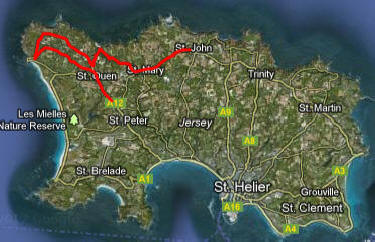 Course Description
A north-west based course, using the same start line as the Classic 25 TT, outside the entrance to St Ouen's Manor.
From the start gate, head north and at Six Boules, take the left turn for a reverse lap of Bal Tab. Head right down to the point at the top of L'Etacq headland and turn sharp right to pick up the race circuit again. Complete nine-tenths of the lap, taking a hairpin left at the top of Greve de Lecq to dive down the steep, winding, 50 mph descent, in to the bay.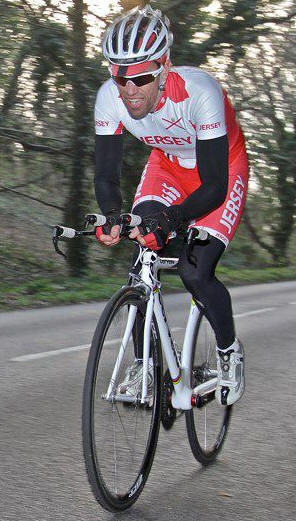 Robin Ovenden, climbing out of Greve de Lecq
Photo ~ John Ovenden
Once in the bay, take the long drag out until you come to the St Mary Parish Hall. Follow the main road all the way through to St Johns Church, Parish Hall, and finish line!
A deceptively simple, sporting course, that's harder than it sounds. Strava has it as 0.1% gradient. It has over 100 meters of climbing and it's always windy. A toughie!
There are three significant EFR ~ Segments on this course...
▼
Segment 1
runs from the start base of Greve De Lecq
▼
Segment 2
runs from Greve De Lecq to the finish at St John
▼
Segment 3
covers the final kilometre to the finish