Performance Services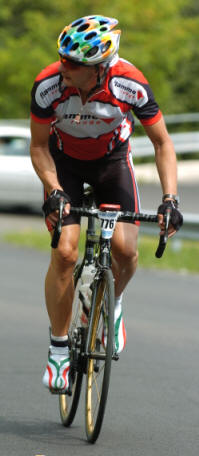 Being a racing cyclist isn't something we do, it's something we are.
We are racing cyclists; professionals in everything but name. We may be weekend warriors, and un-paid for our sporting endevours, but that doesn't mean we have to be amateur in our outlook, our lifestyle or our sporting preparation.
To support you in meeting your training aims and competition objectives, we are making available a complete set of professional tools, services and facilities. Use them as you see fit, mixing and matching, to suit your needs, wants, and budget.
We're acutely aware of the financial, time and equipment constraints placed upon the family man, the weekend warrior and the everyday riders who are just like us. Riders with more ambition than the time available to realise it.
We are here for the riders who are passionate for, committed to, and intoxicated by, this most beautiful of sports, but can't justify the costs of a
full-blown, £100 per month on-line coach.
Previously there was little alternative, other than buying a sheep-dip, "train like (insert his name here)" book. But we believe we can offer you a cost-effective, value-based solution, that could best meets your needs.
Level of Service?
To help you choose the level of service that best meets your needs, just consider the questions and chart below, and click on the box that closely matches your requirements.
If you know exactly what you want, the Training Option is the best, value driven, choice to consider.
Depending on your knowledge, ability and time, choose between a Self-Coach Manual or a tried and tested, programme, pre-developed to give a specific, known outcome.
If you have a specific outcome that requires, or you as a rider would like, a little more personal attention, then the Coaching Option is a better alternative. If you have a power meter, these levels offer monitoring of training levels and feedback on sessions; the regularity of which is determined by the level you choose.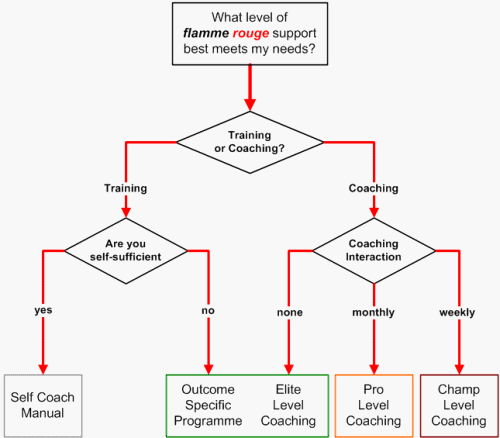 ---
flamme rouge Performance Services Overview
▼ Coaching Services
If you want a tailored programme to meet specific needs by a specific date then we have three levels of service from which you can choose. Elite, Pro or Champ; the programme level is determined by the amount of athlete-led, coach interaction you require.

The programmes are the same; just the interaction level, and cost, changes.

---

▼ Training Services
Value driven training programmes that offer the best value for money performance gains, in the cosmos!

Effectively they are Elite Coaching Programmes, pre-tailored for specific outcomes. They are personalised to your own heart, power or perception levels; from £10 ($15) a month.

So if you know exactly what you want as an outcome, but are unsure of how to go about it, just pick the option that best meets your needs and you are on your way. For this value driven programme there is no coach interaction.

---

▼ Testing Services
Standalone performance evaluations. Take a wVO2max, Ramp or Lactate Test from as little as £20 and compare your performance against the 600 tests we have in our ten year knowledgebase.

All we need is you, your bike and your best set of legs.

---
I truly believe (because I've looked) that you won't find a better value for money performance improvement proposition than our flamme rouge Performance Programmes. So go on, why not sponsor yourself for the winter or just for a specific event?

If you're spending a couple of grand on your bike, hundreds of pounds getting to your events, and hours without number riding the road, and turbo, then why not splash out just a little on your own personal development? Something that will give you a cast-iron guarantee of performance improvement.

Try spending £30 on a stem or seat post and see how much faster you go!

Check out the range of services we offer, which are aimed purely at the dedicated, non-professional, weekend warrior. If you like what you see, no matter where you are in the world, please get in touch. If you're unsure, send us an email to discuss options. What's the worst that can happen?