Road Race ~ Les Platons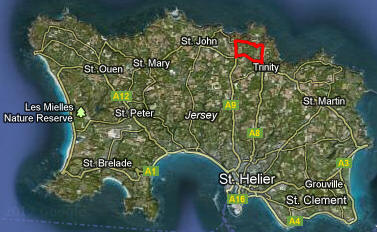 Course Description
Les Platons is the second smallest, but flattest of our circuits, sitting on the island's north coast, with views of France on the horizon. It's run in an anti-clockwise direction and is often used for evening races as there are two churches on the course. Sunday's get a bit busy!
Effectively it's two, one kilometre side straights, north one sloping up, south one sloping down, joined by two, one and a half kilometre undulating top and bottom bits. Elsewhere it'd be classed as a big crit or kermesse circuit.
The start/finish line is at the three o'clock position and on a rise, heading north. Most corners are tight 90 degrees or more and the first one is no different. An undulating top road, where it's always windy, takes you along the "Guns of Navarone" (filmed) north coast. Even today at the bottom of the cliffs are huge German guns tipped over the edge after the Nazi occupation.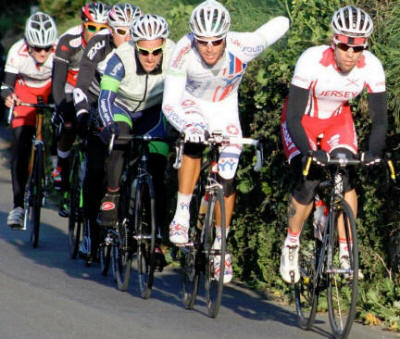 Robin Ovenden, Greg Mansell, Danny Lowethorpe,
Dan Hawksworth, Ali Cann, Ben Le Brocq
The big boys working hard. Photo ~ John Ovenden
Another sharp left takes you slightly down hill to Haute Croix, where you turn left again to pick up the 25 mile TT course. After a kilometre and a half take the very sharp Vesconte Monument corner and don't sprint too early, as the finish line is further up the hill than you think.
The finish line used to end in a downhill mass gallop on the north road. But someone built a very big house there and didn't want a load of noisy (nosey?) cyclists hanging around outside their house. So in the spirit of entente-cordiale, the start and finish moved to a farmer's field on the much quieter, and less populated, east side of the circuit.