Time Trial ~ L'Etacq Wood Craft 10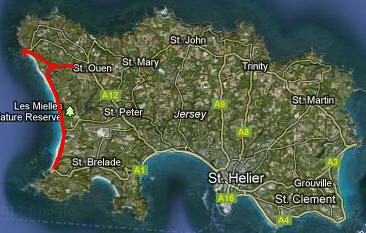 Course Description
The race HQ for this course is alongside the finish line at L'Etacq Wood Craft Car Park, but the start is at the top of Hydrangea Avenue. Leaving the red post box, embedded in the wall, at the top of the hill, you descend down in to St Ouen's Bay and fire south, along the Five Mile Road until you get to the car park at the foot of La Pulente, and 15k TT start line.
Turn behind the manhole cover in the middle of the road, to retrace your wheel tracks back north. Don't worry, it's not you! The head wind you had on the way out will somehow still be a headwind on the way back!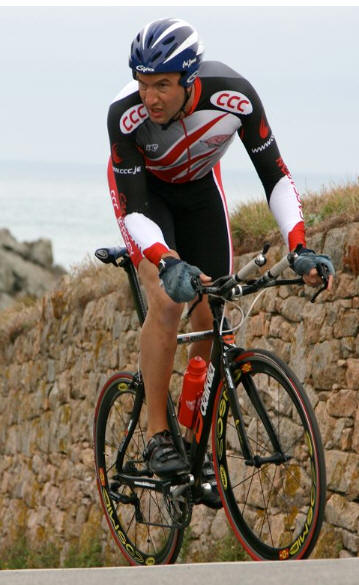 Big Lee Wells ~ Focussing on the job in hand
Photo ~ Sam Goulding
Fight your way to the foot of Hydrangea, turn left and head out to L'Etacq. Staying left, go around the headland to climb out of Stinky Bay. Take the first right to drop back down the hill and scream all the way back to L'Etacq Wood Craft Car Park.
The finish is at the Give Way sign, around 50 metres before the junction.
There are three significant EFR ~ Segments on this course...

▼ Segment 1 covers the 5 mile TT run in
▼ Segment 2 covers the 5 mile TT run out
▼ Segment 3 covers run in and out of L'Etacq; the Stinky Bay Loop!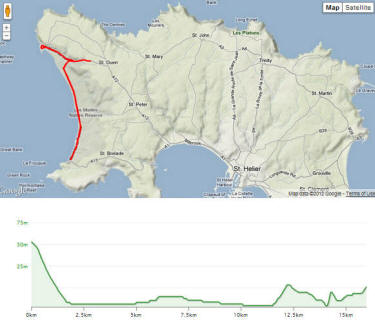 Due to the current "constraints" on Strava's algorithms, out and back courses raise a few anomalies, which are to be addressed in the fullness of time. The course record for this event (at time of publication) sits at 21:18. Sorry Jason!