Road Race ~ Crocher Circuit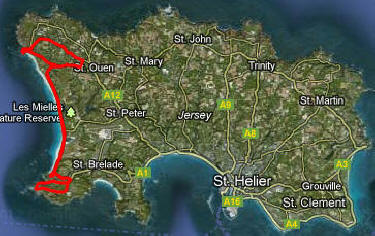 Course Description
This west of island course is an amalgam of two courses and two names. It uses the Corbiere Circuit and half the Bal Tab Circuit, with the Five Mile Road as the conduit of the two.
The drunken brain child of Russ Crowder and Steve Scotcher (hence the name!) it's a hardman's course and a perfect training workout.
In recent years the start/finish has moved to the top od L'Etacq climb, using the same race HQ as Bal Tab.
It leaves the line and heads east towards St Ouen Parish Hall, turning right on to Route de Trodez, then right again, down Hydrangea Avenue to drop to the Five Mile Road.
Fire up "The Five" (wind direction permitting) and head to La Pulente. Up the climb, out of the bay and up to La Moye Garage, where you take a right, and a quick left to tackle the Corbiere Circuit in reverse.
Climb the long way out of Corbiere and back to La Moye, where you turn left just before the garage and descend La Pulente and head north along the Five Mile Road, back to L'Etacq.
Keep going until you reach the foot of Hydrangea, where you turn left to pass the L'Etacq Woodcraft and head down to the point and Stinky Bay.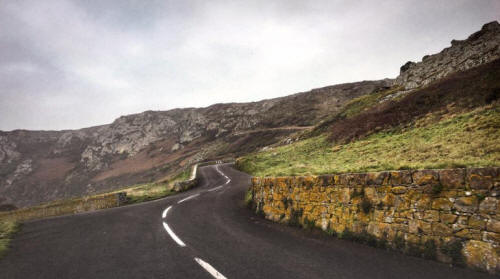 The start of the Glorious L'Etacq Climb
Photo ~ Sebastian Krezminski
Round the point, and climb out of L'Etacq, staying right at the top to pick up the Bal Tab Circuit again, to start another lap.
There's a few variations on this course, sometimes it's a sprint finish at La Braye, sometimes it has a hill top finish for extra suffering, sometimes it goes north first. But at over twenty five exposed, hilly, kilometres, it's always going to be tough.