Road Race Bal Tabarin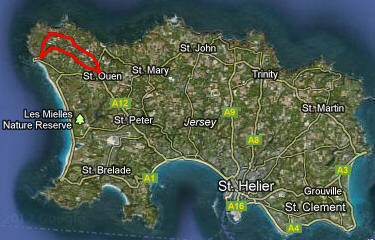 Course Description
Bal Tabarin Circuit, sits on the island's north-west headland with views of Guernsey, Sark and Herm. It also has it's own weather patterns, which probably explains why it's predominantly farmland and the least densely populated section of the island. Which brings it's own issues!
The southerly start and finish is at the top of the L'Etacq Climb. The downhill, 120 degree first corner (below) is very tight, gravelly and slippy. It leads in to a short 100 metre "tunnel of hedges" before opening out northwards, on to Route des Landes, where the attacks start.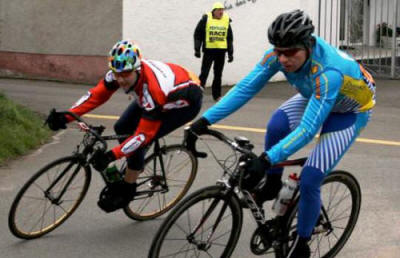 flamme rouge and Big Maggys Ian Williams
negotiate the tricky first corner side by side
both ex-racing drivers and both with gorgeous wives!
After 500, normally tailwind assisted, metres it's easy right, for a steadily rising blast along Rue de la Trappe and Six Boules Corner. This is a tight, slow in, open, fast out corner on to Rue de Vinchelez which for some reason, always seems to attract crashes!
The corresponding return leg, twists and turns through the gently dropping countryside past manor houses and huge barn conversions. After 3.5k you hit the almost dead stop turn of Les Landes corner and the entrance to the horse racing track. You're now at the flamme rouge.
An uphill kick precedes the twisty run in which, with 400 metres to go, opens out on to an arrow straight finishing gallop. And a headwind! Don't show you're hand too soon.
This circuit is fast and furious, lined by unforgiving granite walls and is right in the heart of farmland, the landed gentry (Messers Perree and Stephens) and the equine community. So it's big, diesel dripping, tractors; big 4x4 child transporters; and big, frisky, animated, easily spooked, horse riders and their animals. It's always action packed.