What's New? ~ Summer 2018...


A glorious summer's day in the sunshine ~ with Clarkie and the team...
---
Website Update Notice...
It's been a crazy winter and spring, but we're still here, as strong as ever with riders competing at all the big events around the world.

I'm afraid the website updates are taking a bit of a hit during this busy time, but we are keeping our facebook page updated.

Will be back soon, but in the meantime, check out the factsheets and the programmes if you want to be fitter, faster, stronger...

Recent Updates Here...
Warm Up Routines
~ Get ready for competition
TT Starting Strategy
~ Getting off the line
TT Pacing Strategy
~ Getting back as quick as you can
Previous FAQs...
FAQs Decoupling
~ Power Heart Rate Relationship?
FAQ's CTL & Race Fitness
~ Racing Hard Declining CTL?
added 28/02/2017
---
Times Past!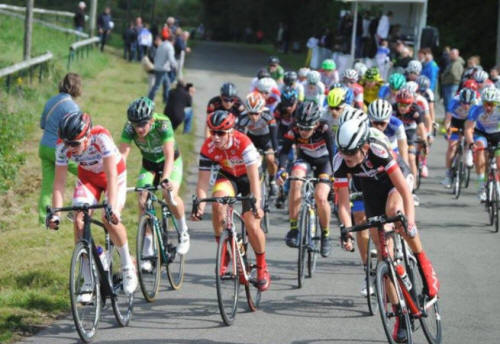 Callum Ecobichon ~ About to launch another attack...
Well what a summer that was! A great season for our riders around the globe. Above is our youngest team rider, fifteen year old Callum Ecobichon, riding in probably the most brutal race I've ever watched!

A Cadet race in Brittany. Forty-five, one kilometre laps, on a 50 x 14 restricted max top gear, in sixty-six minutes! Imagine an hour of our 60 Second Killer sessions, and you'll get the drift.
---
Below, we have four of the five boys descending, in close formation, off the "biggie" in the Gran Fondo Ventoux. Carsten Koppen (number 1) on the front, (Craig Grant has just passed the motorbike!), Dave Price tucked in, Nick Thompson about to drop it in to the corner, and Chris Burrough closing in on the interlopers...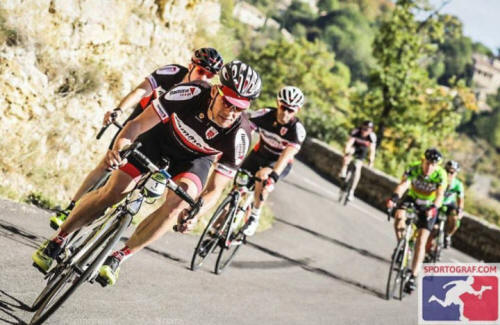 The boys doing what they do best, in team formation...
---
Meanwhile, on the other side of the world, Mike Jones, Nick Le Cocq and Hish Scarff were "suffering" well on the biggest, baddest climb of them all, the Taiwan KOM Challenge. From sea level to 3275 metres in 105 kms!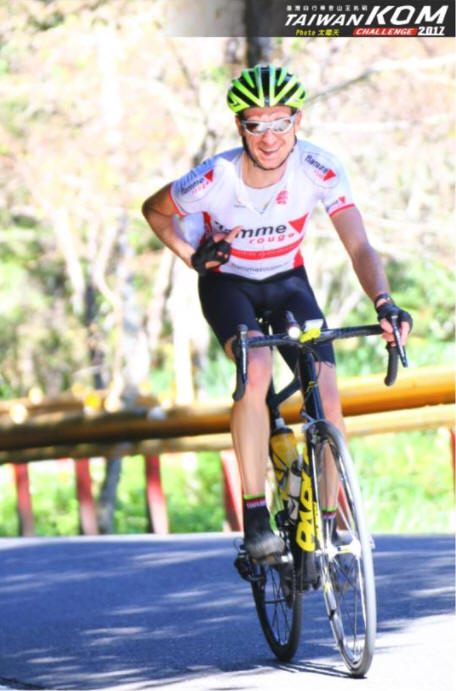 Mike Jones ~ Taiwan KOM
It's a bit of a beast...
---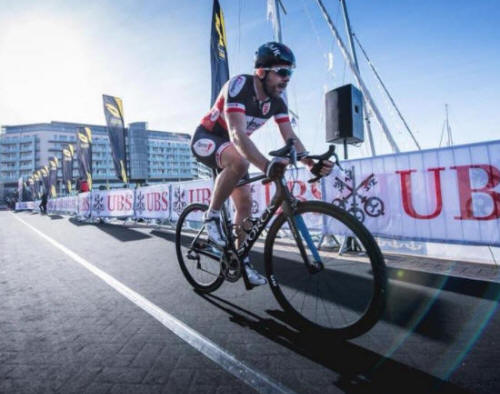 Will Wright creating his own rainbow!
photo: Col Morley
Above and below we have Will Wright and James Geldart in Jersey's round of the Super Leauge Triathlon Sereis...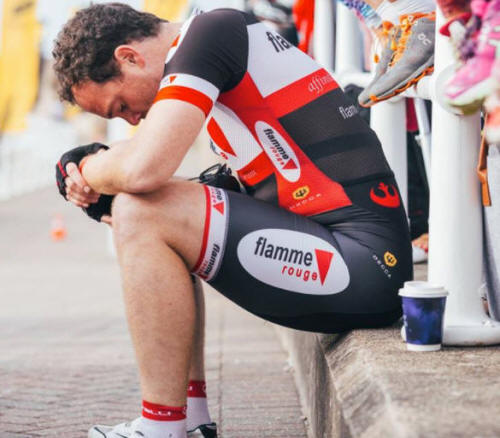 James Geldart ~ if you're gonna do it, do it properly
photo: super leauge triathlon