Retired ~ Hougue Bie TT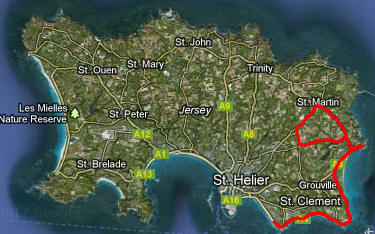 Course Description
Admittedly, this course wasn't vey high profile, but I do remember riding it and marshalling at the top of Gorey Hill, where the riders "crossed over". Maybe it was the fact that it was like a Scalextric Track that it's not used anymore. Makes an excellent training circuit though!
Leave from the usual La Mare start line and head out to Gorey along the coast road. Following the 10 mile TT route.
Carry on to the foot of Gorey Castle and take the sharp (is there any other type?) hairpin left to climb up the hill all the way to Ransoms. You can easily spot it on the profile below.
You're now on top of the island, and half-way around the Hougue Bie circuit, Although you've climbed a big, steep, long hill, there is still a constant false flat to be negotiated all the way to St Martin's Church. At the church, take the left and follow the normal course to Midland Stores. Turn left again at the stores, through the circuit's start and finish line and head back to Ransoms, via Queens Valley.
As you climb from the valley entrance, get ready to take the left turn 50 metres from the top of the climb. As you turn off, it's a short 40 metre spurt, to a yellow line and the junction. You are now right back at the top of Gorey Hill. Take a right, having given way to traffic, drop down in to Gorey, taking care on the descent, and power back to whence you came.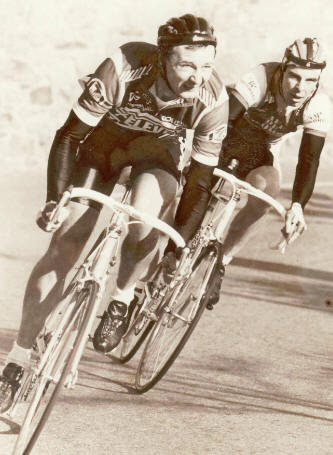 Hougue Bie first corner 1986
Harinet helmet, no shades, lace up shoes!
My beloved 7-Eleven jersey. Ripped it to shreds in a sprint crash.
Twenty seven kilometres, two long "straights", one big hill, one short hill, one long false flat and a couple of "sprint" sections to stretch the legs. A perfect circuit to be completed in under an hour. Although Des' time below, is a Strava algorithm anomaly. Sorry Des!
There are five significant EFR ~ Segments on this course...
▼ Segment 1runs out from the start to Gorey Common
▼ Segment 2 runs in from Gorey Hairpin to Ransoms
▼ Segment 3 runs up the La Preferance slope to Maufaunt
▼ Segment 4 runs in from Gorey Common to the finish at Le Mare
▼ Segment 5 covers the final kilometre to the finish