Retired Circuits ~ Our History...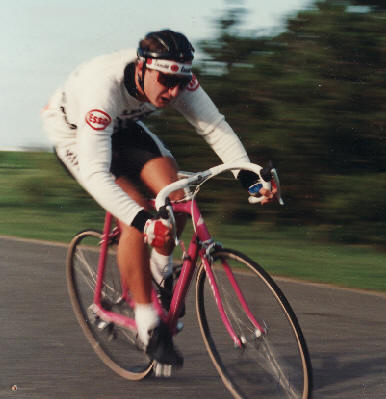 yep, sweatbands have retired as well thank goodness!

Where did they go?
Over the years, there has been a reduction in the number of circuits used within our fair island. The reasons are many but mainly relate to traffic calming, traffic lights, housing developments, shops now opening on Sundays, etc, etc.

The circuits we still use would probably not pass the assessment criteria needed to enable a race to be run in the first place. But then neither would Monte Carlo in the F1 calendar. The fact that we've been using them for almost eighty years helps get us through. So bring it on...

Click the Retired Courses links, on the right, to see how we used to do it in the good old days; toe straps, white socks, lace up shoes, downshifters, side pull brakes hairnet helmets (or none at all), alpaca clothing, and shorts with real leather "shammy's".

And we all rode bikes from Europe. Until I became the first person in the island to buy an aluminium, American, Cannondale. You should of heard the laughter. Well, it was lipstick pink!

These are still excellent training courses and you really should try them if you're looking for a short, sharp, training session. They're perfect for one or two riders, just not so good for field of fifty at the end (or start) of a working day; or weekends as they're now known...