Retired ~ Club House Road Race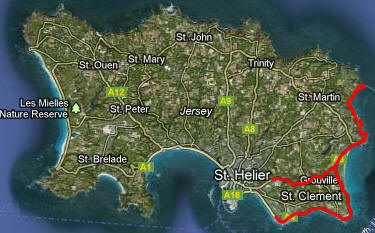 Course Description
After the season opening, reliability trial (the UK call them sportives now!) and restricted gear crit, this east of the island en-ligne event, was always the first road race of the year.
Starting at the ten mile TT headquarters of La Mare car park, you follow the coast all the way to Gorey and it's omnipresent, imposing, thirteenth century castle. Climbing around the back of the fortifications you continue to hug the coastline as you pass Geoffroy's Leap, Archirondel and St Catherine's woods. Finally you make it to the end of the road, take a right and follow the loop around St Catherine's breakwater.
Retrace your steps, past the lifeboat station and turn sharp left, at Jay Morris Corner as it became know, as this is where the sadly missed Jay crashed twice in successive events! Drop back through Archirondel and with the Castle Green on your right, descend on to the coast road. As you pass Gorey Common, prepare to head inland and the awaiting Grouville Hill.
Grouville Parish Church signifies the start of the final climb. Croix de la Bataille signifies the end of the ascent and the start of the winding, undulating, descent back towards St Helier. It's now a screamer to the finish, which was the front door of the now demolished Caeserean club house, where it was tea and kit-kat's all round, job done.
Somehow, in 1986, I managed to escape on the climb and stayed away. With 20 metres to go, I was in the lead. I died on the false flat to the finish and got caught on the line by a tyre width. And it still hurts...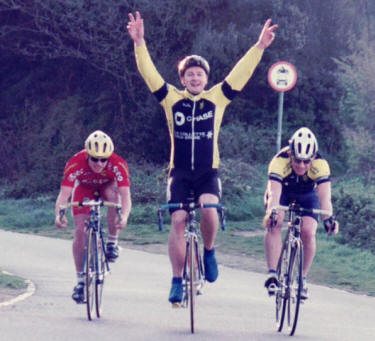 I'm not fat, I'm a sprinter