Time Trial ~ Tour de Bretagne 10
Course Description
This course was first used for the 2010 Tour de Bretagne. It combines the St Ouen's 10 and the La Pulente 15k TT courses, but turns off the Five Mile Road to finish on Mont Matthieu,
Leave the the normal La Pulente TT start line and run north along the Five Mile Road in St Ouen's Bay. Head up Hydrangea Avenue and, at the bottom of the climb, turn towards L'Etacq. Head out to, then go around Stinky Bay, to retrace your route back to the bottom of Hydrangea.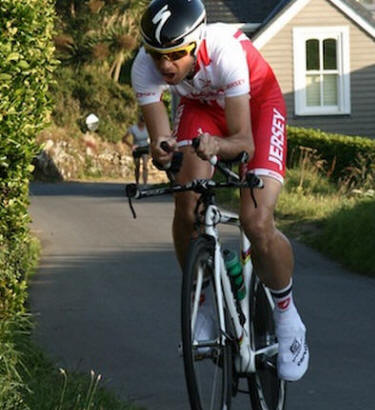 Nick Le Cocq
Climbing to the finish atop Mont Matthieu Photo ~ CCC
Head up the hill and continue until you reach the marshal at the Parish Pump. Head back down the hill, in to, and along, the bay. After around a kilometre, take the first left after the Kemp Tower and head along Chemin de L'Ouziere. At the junction, take a quick right/left shimmy and head to the top of Mont Matthieu and the finish line.
Again, a windy, lumpy circuit. To disc, or not to disc? That is the question. Meeting point is the car park at the foot of La Pulente, where there's a public toilet.
There are four significant EFR ~ Segments on this course...
▼
Segment 1
runs from the start to the 5 mile TT turn
▼
Segment 2
runs from the Stinky Bay Loop
▼
Segment 3
covers the Hydrangea Climb
▼
Segment 4
covers the Mont Matthieu Climb