FTP Development ~ Pro 11.2 km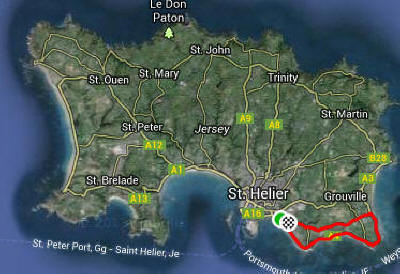 Introduction
Functional Threshold Power (or FTP) is one of the cornerstones of your cycling fitness armoury. It matters not which discipline you undertake, from 10 mile TT's, Crit Racing, Cross, Road Racing or Sportive's, FTP is your friend, and you need to maximise its potential from within.
FTP Development intervals, aren't run at a a flat out pace, so make sure you know what you are doing before you "dive in". You need a long-ish, flat-ish, quiet-ish, and as traffic-calming free road as you can find.
In Jersey, this is about the only one, unless you do circuits of Les Platons or Bal Tab.
We are blessed by having "everything" within five miles of our door. I'm sure wherever you are in the world, if you look hard enough, you should be able to recreate a similar concept in your own "playground" of choice.
Follow The Rules...
You are totally responsible for your own actions. Ensure your bike is in tip-top condition, keep your head up at all times, have regard for other road users and never go faster than the speed in which you can clearly see to stop in. Ride safe, give it a hundred percent, and have fun.
Course Description
This "circuit" is at the southernmost tip of the island taking place in St Clement and Grouville. It's 11.2 km's long and the whole "two-lap" session can be done and dusted in around a sixty minutes (if you live in town), including warm up and cool down.
To start you need to get yourself to St Clement's Coast Road, heading out from town and Havre Des Pas.
Once at Greve d'Azette, you head out towards Gorey and pick up the start, just before Robert's Garage opposite the Victor Hugo Complex.
Basically, you just follow the coat road for 7 kms, until you get to the "inner road" at Fauvic. Take a left turn, and roll back on the slightly undulating road, towards town.
When you get to the Tennis Courts at St Clement Golf Course (!), you've completed one circuit.
Very, very slowly, go straight across the traffic light junction in to Green Road (or if you're really spent take a left to go the long way around!) ready to pick up the circuit for lap two.
Take a drink, take a breath and when you get to the end of the road, rake a left then go again!
After two, laps it's game over! Cool down, go home and get your recovery process started.
The whole of this course is the segment so just ride it as steady as you can. You're looking for consistency, not surging and slowing.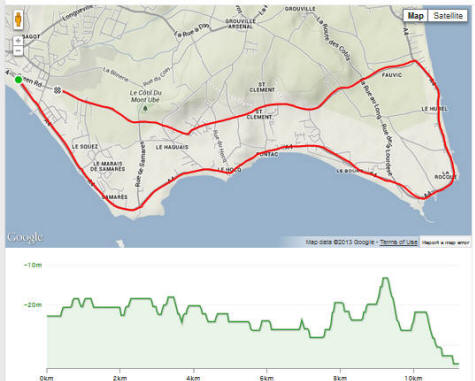 Who's it for?
This course is for everyone that wants to improve their fitness. You may want to start with the slightly shorter, but no less demanding, FTP Elite, before you tackle this route.

Doing the Elite first, will allow you to maintain progression and see a better return on your training investment.

If you're stuck for time, it's a fantastic session for building your aerobic capacity, and you're never far from town, An ideal "lunch-time" circuit.

What Next?
When you feel you've maxed out your FTP Development, or hit a plateau in terms of segment times, just choose any of our other options from the list on the top right.