Climbageddon 100! ~ 250k/5040m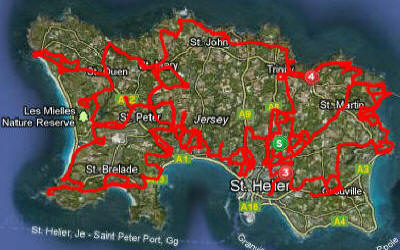 Introduction
The flamme rouge Climbageddon Routes are, along with the Classics Circuits, legendary amongst the Jersey cycling community; often copied but never equalled
These rides have evolved since their first running in 2003, and draw the biggest attendences of any of our rides.
We live in a small place and there's only so much you can do with the topography we have, but we believe we do it well.
Here we have the daddy of them all, alongside our three, pre-season, Green/Amber/Red week climbing sessions. This is the epic Climbageddon 100 ride that saw me lead the Rapha Rising Challenge in 2012.
Ease in to them and enjoy them. Keep your head up at all times and ride safely, especially on the descents.
Climbageddon 100 Route

Climbageddon 100 ~ Strava Page...
I'm not even going to start to describe this one. Let's just say it was a long day in the saddle. But it got me to the top of the leaderboard in this; so it was worth it...