FAQ ~ Training Races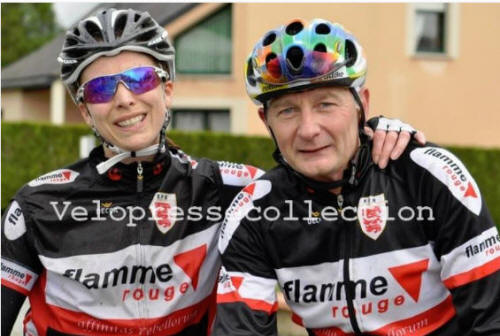 Riding to help a team, or team mate can be just as rewarding as riding for yourself. Susan Williams, first lady Marc Gomez 2014, and me, her domestique for the day.
How do I go about upcoming races I'd like to attend; will they interfere with the program? I want to use some of these races as training for more interesting races later in the season. Do you have any suggestion on tactics?

Thomas Ravn Andersen ~ Denmark & Derek de Gannes ~ Ontario
---
This is always a tricky one, and as ever the answer is nearly always, "it depends". Turning on it's head the old adage, "train your weaknesses, race your strengths", is a great way to approach events you're not targeting as key season objectives.
Training doesn't always have to be a solo, turbo or road session, or a chain gang with your mates.
If the event you want to do isn't a defined objective, why not use the race to work on, and develop, your current weakness? But remember, you're training, not racing, so leave your ego in your kit bag.
There should be no pressure, no expectation and no need to batter yourself to hang on to the leaders and grimpeurs as the attacks and skirmishes kick off around you.
Recently in France I had one of the "best races" I've had for a very, very long time. Out of our whole team, I was last over the finishing line.

We decided I'd stay with our lady rider and protect her and supply a wheel, or shelter, if and when needed. There was no pressure, no expectation, no obligations other than to support her should it be required.

The only reason I was there, was to enjoy myself and get myself fitter. It was a great day.
So, go with the race; but don't race it as you normally would. As the attacks start, just make sure you don't get in the way of other riders who are racing and let a wheel go; compromising the race of those around you.
Drop back and find a group of which you are the strongest.
When you get there, do more work than the rest of them put together. Climb strongly (as you would if training, possibly over-geared) to get the quality you need. On the flats, go in to beast TT mode and line them out (but keep them together) by doing big, steady, muscle tension, turns on the front until your legs drop off.
As you're the group's strong man, disappear to the back for a bit, eat, drink, regroup, then go again. You're objective is to expand your fitness, find your TT cruising legs, and to become the mentor, leader and organiser of "your" group.
Teach them how to form an echelon, go through and off (paceline), or climb more efficiently. Help people who are dropped to get back on, and shelter the weaker riders from the wind.
Park your testosterone and pass on your skills and knowledge to those that can benefit from them.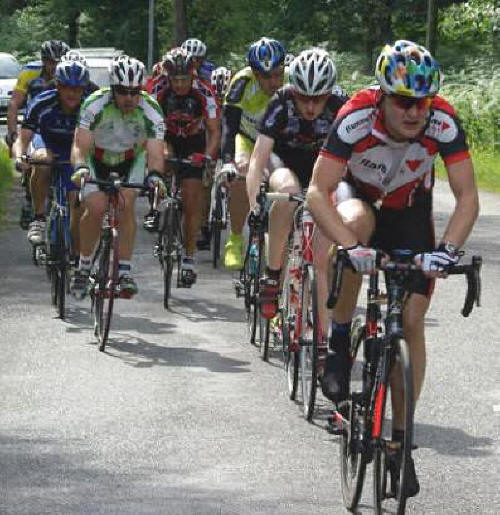 just because it's a training race doesn't mean you can slack off
Don't get upset with people if they can't/won't work, you're there to have fun and get fitter. If it's a hill top finish, line it all out and drag everyone the last 3 k to the bottom of the climb.
Then drop them off, your work is done. Sit at the back and encourage people to hold wheels as they drop off the group.
Come over the line spent. If you're dead last, so be it. You'll be happy you've contributed, will sleep like a baby and will fall in love with riding for the fun of it again.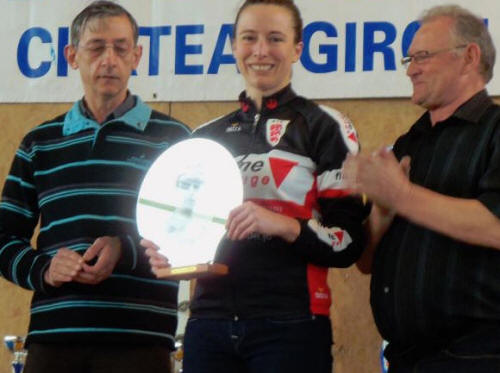 Susan Williams receiving her just reward for an excellent ride
the man on the left is legend and Milan San Remo Winner Marc Gomez

The Message
Treat the race as an "on the fly" road going, variable, random, group interval session!

Sometimes we need to remind ourselves how strong we are and why we do this. Battering yourself on the turbo, or hammering yourself to be at the front of all your events week in week out, makes for a long, and pressured, season.

Of course, you could go out and do a three hour training ride, or a chain gang, or a tempo ride. But you just fall in to the trap of training and racing. There's much more to our sport than that.

Life's too short; back off, take a few training races, brush up on skills and techniques, help others, and remember to enjoy your racing again.

Rejuvenate your mind, body and soul. What's the worst that can happen?