Coaching Services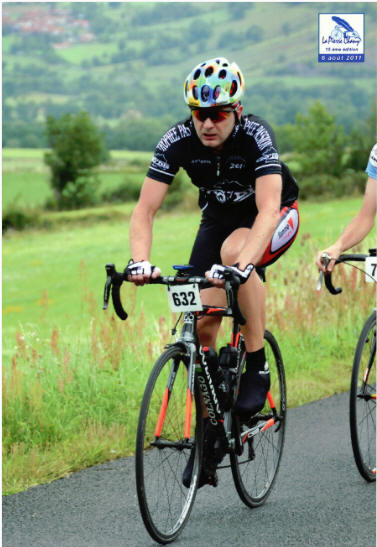 flamme rouge ~ malliot noir
leading the French Trophee Passion Championship
We now have even more ways to use our value-driven team services, with fees dependent on the level of athlete-led coach interaction you require.
No matter which service you choose, I believe our riders receive the best value for money coaching in the world. The programme content, the sessions and the suffering are the same across the board, only the level of rider-led, coach interaction changes.
All our personalised programmes are designed around your unique physiological parameters. They work backwards from your specific objective, to the programme start, filling in any necessary training development blanks or identified "underdeveloped strengths" along the way. You decide on the level of coach interaction you need or require.
Just choose the service below that best suits your needs. If you have any doubt about which programme is right for you, just contact us, using the link on the right and we'll have a no-obligation chat.
What you get...
Each comprehensive coaching programme will have everything you need to get you through a complete macro cycle, or time-frame of your choice be it Base Build, Pre-Comp, Early Comp, Competition or Peaking.

Each programme contains individual workout descriptions, advice and workouts for gym sessions, weight sessions, stretching, road ride preparation, road sessions, adaptation zones, physiological adaptations and much more.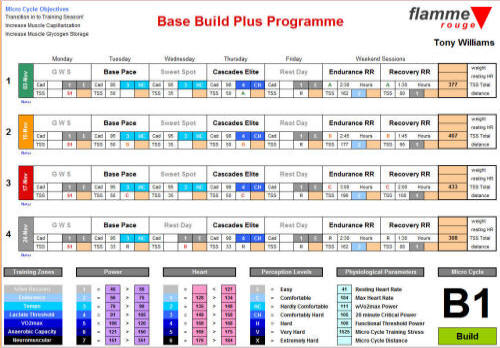 Almost all the sessions can be done either on the road or a home trainer. There are just a few that are best done on a trainer due to their need for consistency, and or safety!
Your programme will be personalised and optimised to give you an incremental, sustainable and measurable progression throughout the period for which it runs.
It will contain your heart rates, your wattages, your power zones and the physiological responses you can expect from using the sessions contained within it. There is also a degree of athlete-led, coach interaction commensurate with the level of service chosen.
Almost every session is less than an hour long and has a specific physiological target or outcome. There are a few "rainy day" sessions that take longer than an hour which prove ideal for a wet weekend.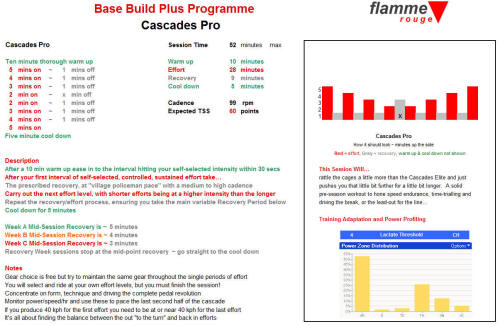 Coach Interaction
Due to the value driven approach of our programmes, we need to prioritise how we deal with athlete-led, interactive dialogue between the client and coach should one be needed.
We can, in accordance with the levels chosen, answer any questions you may have on the programme, individual sessions, or just general training advice questions on specific products or events of which we have experience.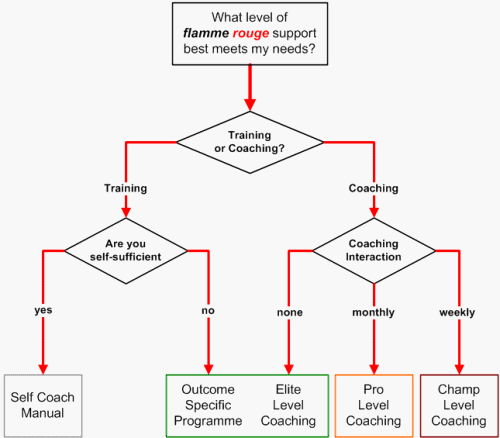 We always do our best to reply to emails as quickly as we can. Response times quoted above are an aim, rather than a promise!
I'm sure you understand that this is how we manage to keep our rider coaching prices as low as we can. We don't have teams of admin people to process your queries and emails, then fire back stock answers. We provide a personal service, all emails will be answered by myself.
---
What People Say

Just a short email to say a big "thank you".

Without wanting to tempt fate, I have made amazing improvements this year. I have gone from the "follower" on club climbs to, today in the Megeve, being the guy in our team who paced the front during three of the four climbs. I could not have done this without your programmes.

I have followed pretty religiously this year and that makes a big difference. I think also with the poor weather we've had, putting in more turbo sessions than usual club rides has made a big difference so I'm keeping my turbo set up until La Marmotte.

It's such a good feeling to be finishing races this year able to "enjoy" them rather than just trying to hang on - chapeau coach!

All the best
AB Switzerland