Training Services
Pick the right programme, to suit your needs, and you too can win a huge trophy!
Andrew Perree, victor in Combourg
We've been working with riders to help make them fitter, faster, stronger cyclists since 1999. Using our own, in-house, tried and tested sessions, we've learnt what works and what doesn't.
All of that knowledge has now been distilled in to bite size Training Programmes for you to take away, configure for your own use and get the fitness, speed and strength your training deserves.
Life is too short, and your time too precious, to be sitting down with a blank sheet of paper. Trying to work out what session to do, when, and in combination with what, to get you to where you need to be in time for your key objective of the season.
If you know what you want, but don't have the time to plan it yourself, just choose the Training Programme that best meets your needs from the list opposite. We'll do the rest...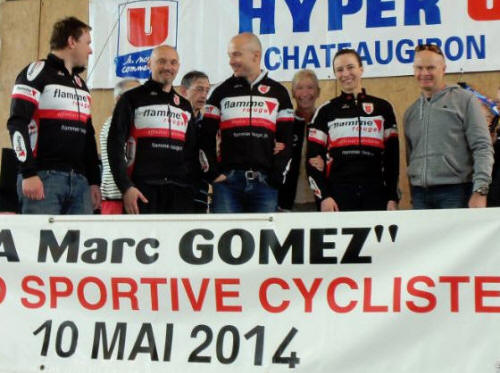 Team Prize ~ Mark Gomez (Milan San Remo winner)
with Mr Perree (again!) on the end, sans kit!
Coach Interaction
Please be aware that, in order to keep costs to a minimum and maximise the value driven approach of these products, after the initial consultation there is no on-going coach interaction with these manuals.
Of course I'll do everything I can to help you, and all emails get answered, in as timely a manner as possible. But I have to prioritise communications on a coaching level basis.
If you are unsure, or feel you need guidance or interaction on a consistent basis, then our Pro Coaching or Champ Coaching options may be more suitable for you.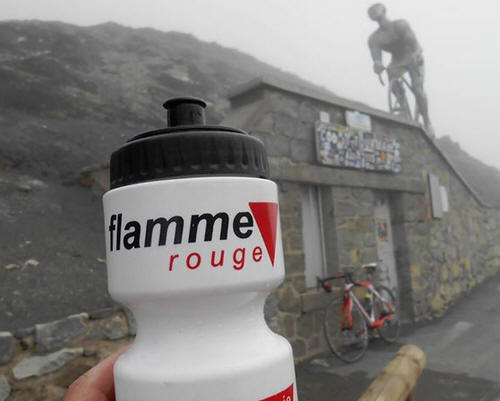 EFR Official photographer Mick Heald atop the Tourmalet on his Pinarello

What People Say
Just a quick request for your thoughts on another training plan. First of all though let me say how grateful I am for your advice over the last couple of years that we have worked together.

I have had a bumper season this year doing things I never thought possible, with mega rides up big hills, and completing events previously beyond my wildest dreams, thank you!
FC ~ GB



How It Works...
Once you've selected your programme, we'll send you a short questionnaire to complete and return to us. We ask for your min/max heart rate, and/or your VO2max or FTP wattages if you know them.

In line with your responses, we will personalise the programme's drills and sessions with perceived exertion levels, heart rate zones, power zones and cadence guidelines.

Your manual has been designed to make best use your available training time to close the gap between where you are now and where you want to be; within the obvious limits of human adaptability!

Start to finish process takes a day or so.