Marc Gomez ~ 2014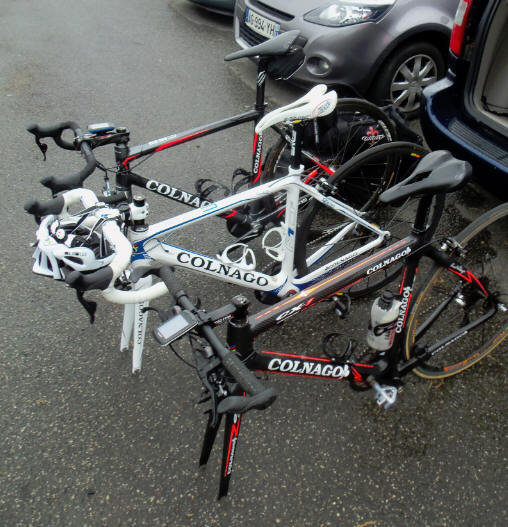 I love the smell of Colnago's in the morning ~ They smell of victory
Two of these are race winning bikes, the third (mine) is the domestiques...
Our second event of the year saw a "shuffled makeup" from our Tro Bro team. Seven flamme rougers took to the roads of Brittany once motre, this time for the Marc Gomez. With other commitments!, out went Simon Perchard, Spencer Moss, Pete Slattery & Mick Heald.
In came a bit of glamour in the form of Mrs flamme rouge and Susan Williams; while Chris O'Prey and Chris Stephens (now available for selection) took their first foray of the year; and Jason Stratford, Andy Perree and myself stepped up for our second attack Francaise.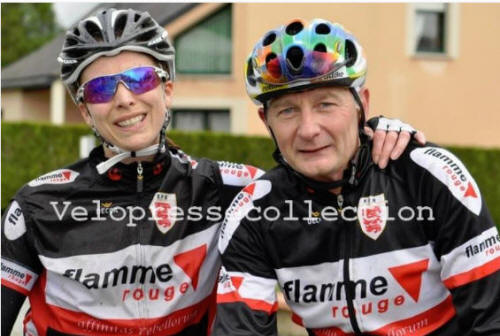 It's always nice when the team leader thanks her domestique
The Overview
It was an epic day; three and a half hours riding in biblical, monsoon conditions. It was dry ten minutes before the start and dry ten minutes after. In between, it was meteorological bedlam; absolutely loved it!
It was a race in which I've never worked so hard to personally achieve so little. But I can't remember when I last had so much fun on a bike.
For the neutralized start, we took up our "usual positions" behind the lead motorbikes. At one point there were four of us. But when it "kicked off", there was myself and Andrew Perree at the head of the field.
The other boys got shuffled as the echelons swarmed across the road. it went from calm to chaos in the blink of an eye.
The boys grouped near the front. Chris O'Prey stayed with the leaders until he was tailed off with 10k to go. The others formed the bulk of the "second group". At the end, they picked up Chris to come over the line almost as a collective.
I stayed with Susan and we worked well together, hanging with the large third group, until the elastic snapped on the rolling climbs heading to the finish. But she stayed ahead of her opposition to take first lady in the 105km race, so job done.
Dianne (mrs flamme rouge), in the early stages, battled to stay with her main opposition in the 50k race. Getting dropped on the climbs but coming back on the flats. As the race wore on, the roles reversed. At the foot of the last climb, Dianne powered away, sprinting to her third victory in this event in four years.
Our day in pictures...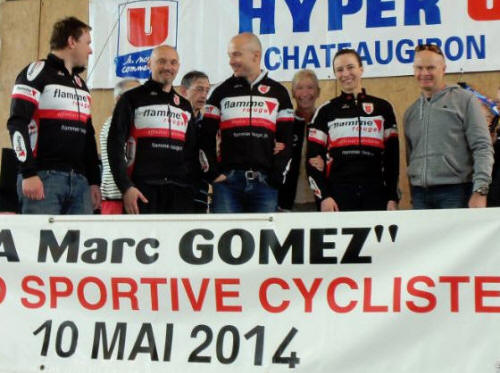 Winners of The Team Prize!
not enough dry kit to wear for the podium shots
Chris O'Prey, Jason Stratford, Chris Stephens, (Dianne), Susan, Andrew Perree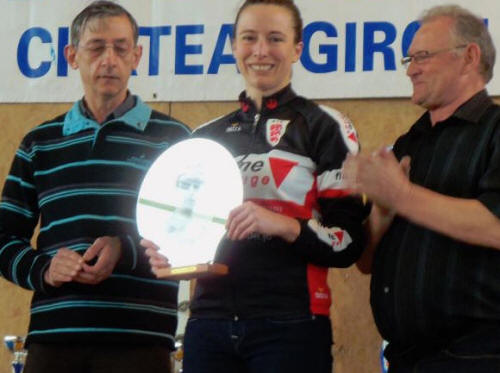 First Lady 105 km ~ Susan Williams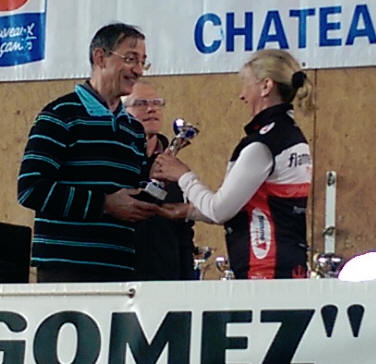 First Lady 50 km ~ in a sprint finish!
Dianne Williams (mrs flamme rouge) & legend Marc Gomez himself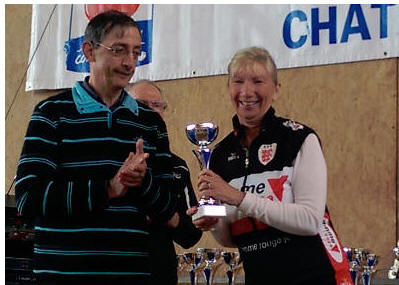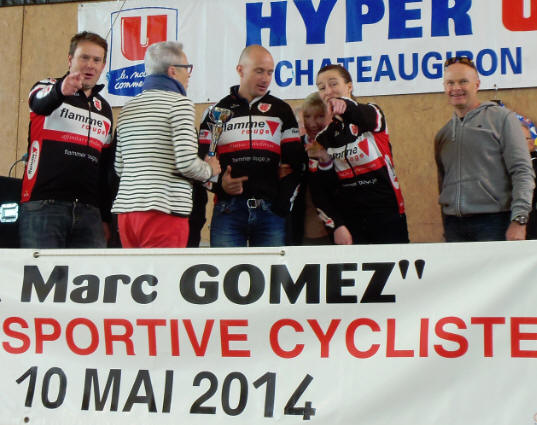 The Lady Mayor of Chateaugiron, presenting the team prize, asks
"who's responsible for this raiding party ...?"
---
| | | | |
| --- | --- | --- | --- |
| Event Stats... | | | |
| Overall Distance | 105 km | Time Taken | 3:38 |
| Height Climbed | | Overall Position | |
| Distance Climbed | | Category Position | |
| Date | May 2014 | Country | Brittany |
| Entrants | 350 | Region | |
| | | | |
| Website | | | |