10 Mile Time Trial Intervals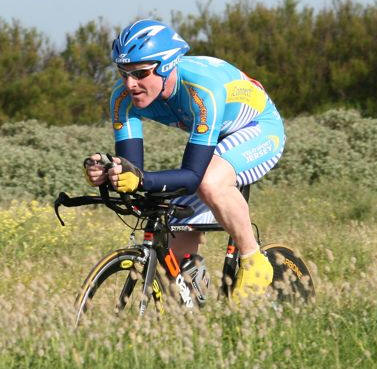 Mike Keighrey ~ as ever, stylishly pressing on
photo ~ Sam Goulding
When & Why?
The clue's in the title! Once you've got your base and pre-comp preparation done and dusted move on to these little beauties. They will help for 10 mile TT's (obviously) and those challenging sections of a race or sportive when the hammer goes down.
Where?
Again a turbo is best because you can control the variables and really hit the numbers for those that are power based. If not, the road will do but you'll have to go on feel and perception.
Top Tip
If you're using this session for time trial training, on the road or the turbo, use your TT bike. It makes a big difference. You'd be surprised at how many people don't.
How?
The only way you can go faster over a set distance is by riding faster than you can at that distance, for shorter, and putting some rests in. So to go faster in a ten mile TT you need to ride these four 5 minute sections faster than your average ten mile TT pace.
Ride five minutes faster than your ten pace, then take a short recovery, then ride faster again. Manipulate the recovery intervals so that a week or two before your event you're down to one minute recoveries and riding very fast for the five minute sections.
Before your event read this factsheet. Ride within yourself for the first five minutes of your pre-objective, test event, then layer your new found speed in to the next three five minute sections without a rest! Hey presto, a PB!
The Warm Up Warning
All interval sessions require a thorough and proper warm up...
Once thoroughly warmed up and at "race pace" readiness, undertake the following "potential" session.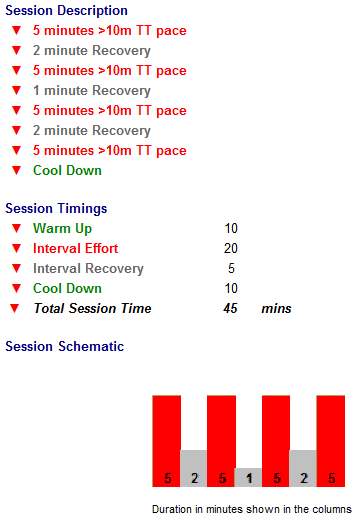 ---
The Self Coach Manual...

Contains over 60 pages of drills, sessions, information and everything you need to get you race ready and higher up the finishing order than you now are. For the price of a training tub you can transform your season, winter or just bike riding pleasure, by taking your fitness to new levels.

The pages here, contain quite a few of our world famous drills, but only a "vanilla" version of them. Your own, personalised Self Coach Manual contains much more than all the drills, all their variants. All you have to do is decide which ones you want to use, and in what order. It's that simple.



Shortly after recieving your programme request, we will send you a return email requesting your physiological details. To manage expecxtations, this is not an automated process, so could take an hour or two.