Self-Coach Manual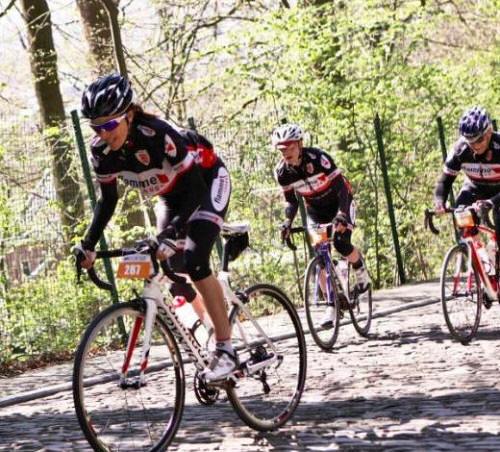 Whatever your objective our SCM can help you meet it
Muur de Gerrardsbergen ~ Flanders
Our flamme rouge Self-Coach Drills & Sessions Manual, has been written to give you all of our world-famous (or infamous) workouts in an easy to read, and follow, PDF e-book. They're all there, from the SH1TS to the WILTS, the 60 sec Killers to the Sprintervals.
The comprehensive, sixty-nine page manual includes information on how to structure your own programme, how to prevent overtraining and on the physiological response you can expect from each individual session you undertake.
Who's it for...?
If you are confident in organising your own training programme, but are just short of a few ideas for results-driven workouts, then this is the product for you.
You don't need a heart rate monitor or power meter for any of the sessions within the manual. But if you have either of them, there are specific target zones and parameters within the sessions, for which you can aim. 
What does it cost?
The price of this Performance Programme is just £20 (approx US$33). 
Purchase A Programme...
If you think this flamme rouge Performance Programme best suits your needs, please click "Buy Now" so the adventure can begin.
If you're not sure, drop us an email (contact details in the footer) and we can discuss options, or tailor something more specific.

From the information you've supplied, we personalise your manuals' drills and sessions with perceived exertion levels, heart rate zones, power zones and cadence guidelines before electronically sending it to you. Sorted!
If you don't have heart or power information it's not a problem. The sessions work equally well without them. Bernard Hinault and Eddy Merckx never had bike gadgets, and it never held them back!
What you get...
Your 69 page PDF manual will contain 40 individual sessions and their derivatives. It has all the workouts you need to help you build your own programme for a complete season, with sessions and drills to help you design your own; Base Build, Pre-Competition, Early Competition and Peak Competition periods.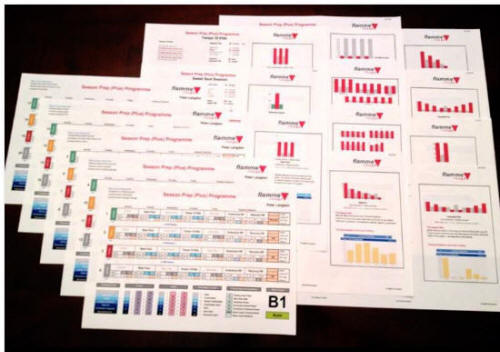 There are also sections and advice for gym sessions, weight sessions, stretching, road ride preparation, road sessions, adaptation zones, physiological adaptations and much more.
But you must be confident in your own abilities to structure and plan a programme. The shot above shows our session plans to the right.
You will receive a blank template that will allow you to design your own micro cycles. But we do include an example of a Base Build micro cycle to help get you started.
If you are unsure how to go about it yourself, or don't have the time to spend many hours creating your own, it may be best to get one of our value-driven, pre-configured, reusable products from the list to the right.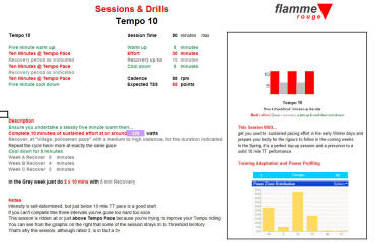 Your PDF Self-Coach Drills & Sessions Manual will be personalised for you. It will contain your heart rates, your wattages, your power zones and the physiological responses you can expect from using the sessions and how you can best use them.
Generally, the sessions are less than an hour long and have a specific physiological target or outcome.
There are a few "rainy day" sessions that take longer than an hour which prove ideal for a wet weekend, or our clients that live in the extremes of the climates. We have riders training in the tundra and the deserts!
Almost all the sessions can be done either on the road or a home trainer. There are just a few that are best done on a trainer due to their need for consistency, and or safety!
---
What people say...
Just wanted to say thank you for all the great personalized information contained in this manual.
AT ~ USA

My first impression - those workouts & supportive info are awesome.
LJ ~ Malaysia

Tony – just at first glance, great stuff. Thanks for being so prompt – your customer service matches the websites thoroughness and sheer "excitement" you obviously bring to the sport! Thanks again, makes "regular joes" like me really excited for layin down the hammer on our friends
EP ~ USA