Block Intervals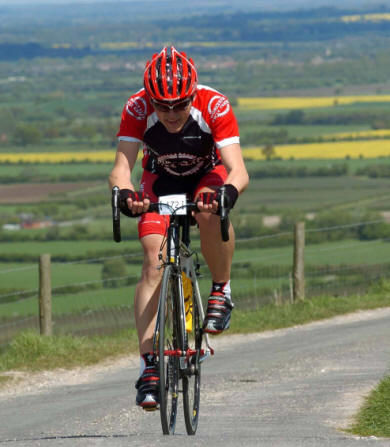 Robert Cole putting his block intervals to good use
on the White Horse Challenge
When & Why?
This deceptively challenging block of intervals can be used in the pre-competition phase or anytime in the mid-season to give a boost to your hill climbing, time trialling, or just plain ability to suffer at the end of a race in the lead up to the sprint.
Where?
Obviously ideal for a turbo session but can be built in to longer mid-week rides on the road. No real risks on the road other than avoiding hills, junctions, and traffic lights. Much easier to pace indoors!
How?
This is a four week interval session, to be undertaken once a week, starting and finishing with Session A.
In week one you carry out Session A, with four, one minute efforts, starting with a low-ish gear, increasing the gear each minute and finishing in a medium gear. At the end of four minutes you take a three minute, small ring recovery, then go again from the beginning to complete three sets.
Each week you increase the starting gear, until you're starting in a medium gear and finishing in a high-ish gear. You're also adding an extra set each week to help bring on the fitness.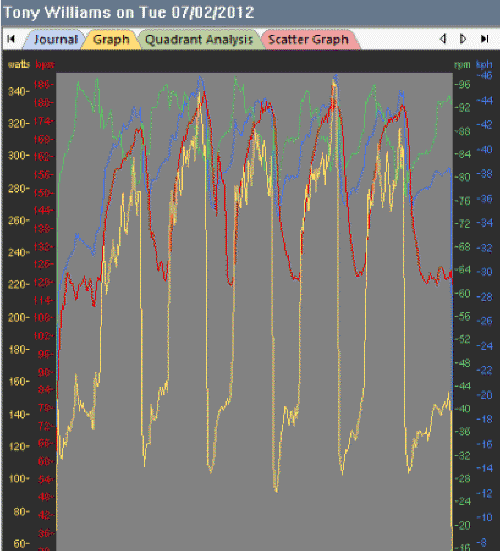 In the fourth, recovery week, you drop back to Session A to be amazed at how easy it all seems. Whereas three weeks earlier it had you begging for the end!
The Warm Up Warning
All interval sessions require a thorough and proper warm up...
Once thoroughly warmed up and at "race pace" readiness, undertake the following session.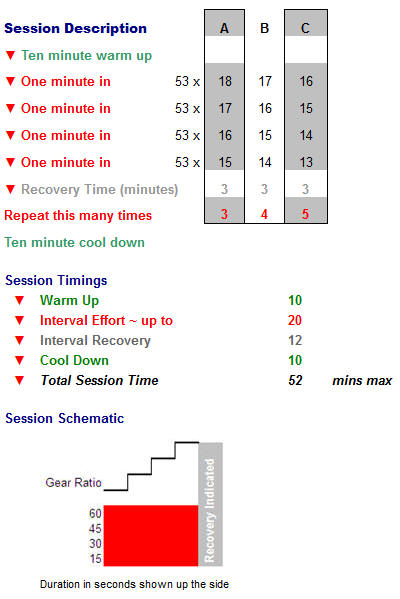 ---
The Self Coach Manual...

Contains over 60 pages of drills, sessions, information and everything you need to get you race ready and higher up the finishing order than you now are. For the price of a training tub you can transform your season, winter or just bike riding pleasure, by taking your fitness to new levels.

The pages here, contain quite a few of our world famous drills, but only a "vanilla" version of them. Your own, personalised Self Coach Manual contains much more than all the drills, all their variants. All you have to do is decide which ones you want to use, and in what order. It's that simple.



Shortly after recieving your programme request, we will send you a return email requesting your physiological details. To manage expecxtations, this is not an automated process, so could take an hour or two.