Trophee Passion 4 ~ Antonin Magne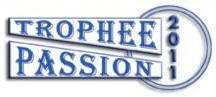 Round four of the championship and I'm a little anxious that my second place would come under pressure as once again we head in to the mountains. Round three finally confirmed that the crash damage from last year was long-lasting. This could be a long day...
In to Battle
The course for Magne's memorial sportive reflected the man himself (see profile below). It was to be hard and there'll be little talking going on, from me especially.
The route was to take in the mighty volcanic Pas de Peyrol (Puy Mary), twice. This is the climb, or rather descent, that took out Vinokourov, Willems, (sounds too much like Williams) Zabriskie and others on Stage 9 of this year's Tour.
To make matters worse, it was one of those cold, damp mornings that could go either way. But what better day to do battle, than on Bastille Day in France?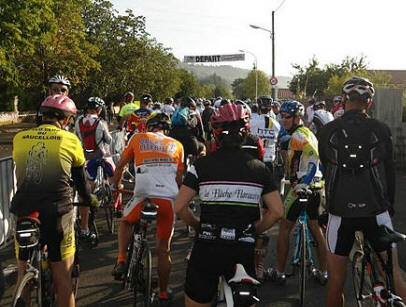 Bring it On
At a respectable 8:30, we set off out of Aurillac along the gentle 10k slope that would lead to the base of the 12 kilometre climb up the 1589 metre Peyrol. Speed? 38 to 44 kph. Who thought this was a good idea?
As usual I'm just shy of the front, keeping out of the wind and trying to conserve energy. Some call it slackness, I call it a stroke of tactical genius. Then the championship race leader, in his black jersey, brought his three man team to the front and lined it out. This could get very messy very quickly. It did...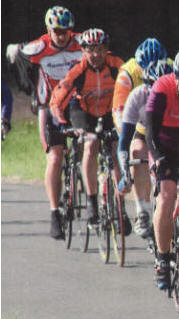 The speed went up, the gilet came off, the arm warmers pulled down and I went backwards. But for once not too far backwards.
As the first group edged away I found myself on the front of a large second group and foolishly took a look down at my Garmin, We were on the bottom slopes climbing at 27 kph and over 360 watts. Mmmmmm.
There seemed to be a lot of traffic around for a bank holiday so I made good use of it to leapfrog up the convoy back to the lead group.
Just as I was thinking this is what it's like to be a pro, it got a bit steeper and self-preservation took over. Time to re-engineer the plan.
Slow Car to the Top
I dropped off (was shelled out more like) and it seemed others had the same idea as a small group of five of us formed. We all helped each other to get to the top in one piece, pacing, encouraging, driving as appropriate. A real team effort.
Five K from the top we pass the Vino crash site from the Sunday before, it already has "tributes" laid and painted on the road. It looks innocuous enough but I clock its exact position for on the way down. There's still all the skid marks on the road and verge from the team cars anchoring up, so there's plenty of warning before you get there!
Until now we've been climbing almost constantly through the woods and forests of the mountain. At the top, it's a near-freezing 2 degrees so the arm warmers come back up and the gilet goes on for the descent.
Once you come over the top the mountain takes on a different perspective. It's open valleys all the way to the bottom with hardly a bush to be seen. It's very windy. Trying to descend at 75kph in a cross wind, riding no hands, while putting on a gilet, calls for a bit of nerve, luck and blind faith.
Today I seem to have an abundance of all three and quickly lose my climbing companions picking up places at will on the descent. At the base I find a new group of friends and we all work together to head up hill again around the hamlet of Dienne.
It's a quick circuit around the settlement and back up the way we've just come down. At a strategic junction there's people checking your frame numbers to make sure you've done the loop!
Deja View
This side of the climb starts at a higher altitude than the other, so in theory it should be easier. However, we've already got a big climb in our legs and now there appears to be a raging block headwind. I decide I'm going to bang out no more than 260 watts on the climb and see what happens. It all looks so familiar; but so different.
I find myself climbing with a group of four, amongst which is a solid rider with Rhone-Alpes all over his kit. He Looks strong; old, but strong, and I decide to work with him. He tells me it's two k to the top and it'll be fine. Then we hit a sign that says three k to the top!
At this point it hits 10% and it stays there for two k until you just reach the summit where it backs off a tad. One of our group taps me on the shoulder and asks for a drink from my bidon. He points to his bottles. He doesn't have any! How can I not?
I give him a drink, he slurps away then slowly (all Titanic like) slides backwards out of view. There's a feed at the the summit, he'll be okay.
My Rhone-Alpes friend tells me he's doing the whole series and is currently second in his championship. He also tells me he's just 60 as he eases away from me! The altitude has got me and I'm breathing like Shergar in the last furlong, I back off and prepare for the descent.
Hang on to your hats
The Vino crash site passed without incident, I hit a near record 92kph on the descent and passed, unsurprisingly, quite a few riders. It was over in the blink of an eye. My top speed so far is 98 kph on the Hautacam a few years back. I'll get 100k if it kills me; it probably will.
At the bottom, as I headed for the run in, there was a massive sounding of horns and a car and a couple of motorbikes screamed past me.
Closely followed by local Astana Pro, Maxim Gourov, who was out for a stroll on the big ride! Like an arse, I tried to jump on his wheel. It was just instinct really, I think I "just" managed to get in the slipstream before he disappeared.
Half way around the finishing loop his chasers passed me just as we went thought the last feed. Couldn't jump on them either.
The temperature's now up to 16 degrees and away from the wind it's getting warm. A quick ride across the plateau and it's back to level ground. To get to the final run in we hit the final "descent dangereux".

My peer group of chasers off the mountain hadn't caught me. There was no one ahead. I took a gel and decided to run a lonely time trial, the 5k to the finish.
Then just as I came off the slopes on to the main road finale, there are two riders ahead. They've seen me and they're gunning it in to the headwind.
I decide I've got nothing to lose and sprint after them. Somehow I manage to average 49.8kph, alone, for a full minute and get on the back of them. My heart is pounding through my chest at 201 bpm, there's no way I'm coming through to the front, yet.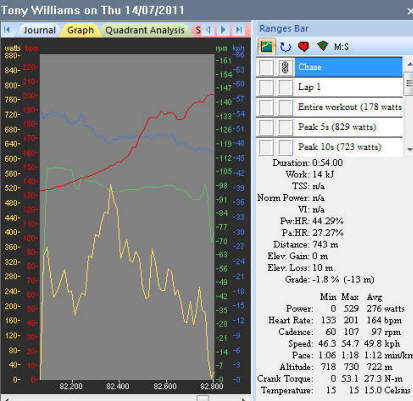 We pick up another two riders on the run in and with a k to go we grab two more. We're now a group of seven as we pass the flamme rouge.
With 500 metres to go one of the initial two I caught takes a flyer, I hold my nerve. He dies within a 100 meters. Then a huge rider in white goes and one of the last ones we caught goes with him. I take his wheel, because this looks like the go-er.
With 200 to go they sprint, I come off the wheel and give it everything I've got. It's not much but it's head down, bum up, eyes closed. I give it full gas. Then two unlinked, unexpected things happen.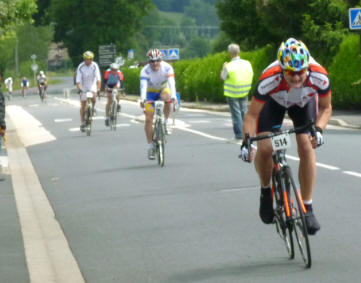 First, everyone sits up but I'm already "in the moment", sprinting with what I've got left, against no one! I look a bit of an arse, but no change there then.
Secondly, the pain in my shorts is unbelievable, as you can see from my face above. It feels like I've got cramp, a sharp stabbing pain, in my pecker! I blank it out and keep going to take the line honours.
I look around to see everyone else is sat up. Doh! Then I remembered the shooting pains in my shorts.
I stick my hand down the front of my shorts to ease the pain, only to find a rogue gel up there that had worked it's way in to the "delicate" area just as I jumped out of the saddle.
I pulled my hand out of my shorts (it's not a cool look) just as the others rolled over the line. I then proceeded to shake hands with everyone before I realised what I was doing. Luckily I don't think they noticed.
Dianne collected my diploma, I don't usually do paperwork, and I was well chuffed to find out it was 108k, with 1700 metres of climbing, completed in 3:58 and an average speed of 27.0 kph!
As a bonus, I was two minutes inside the gold standard. Was reasonably pleased with 15th place, but last year that time would have got me fourth! I knew it was bloody fast.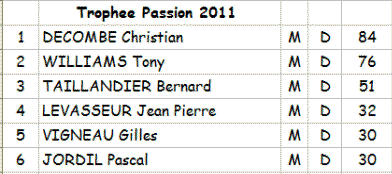 So, a good job well done methinks. A consolidated position in the championship and ten days to get ready for the next round. Time to eat.
Mange Tout
The post race meal was the best ever. Four courses, although unfortunately we only had time to take the one, as we had an eight hour drive back to the ferry.
I know I keep saying this, but it really was a fantastic day. It's just unfortunate that the race is in the middle of nowhere (motorway wise) because it'd be a great event to do as a group. If you're on holiday in the Massif Central on Bastille Day, it's the place to be, so take your bike.
Dianne took on the 50k Route des Cretes which dived down the valley to the foot hills taking in 700 metres of climbing. She loved it.
My climbing buddy was Frederic Fraisse who's travelling to each round in his massive motor home! Frederic took an excellent fifth in his category which sees the first four riders covered by four points. Glad I'm not 60 yet!
Why a gel in the shorts?
I know you're all dying to know, so I'll explain. On real cold days you take your gels and stick them inside the leg of your shorts or inside the arm of your race jersey. But when you've got arm warmers going up and down the leg's best.
The heat from your body warms the gel and makes it runnier and warmer for when you lash it down your throat. Works a treat, as long as it doesn't ease it's way northwards when you're riding.
See, simple explanation.
Laters peeps...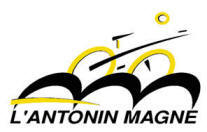 Antonin Who?
There's a fair chance most of you haven't heard of Anton Magne. I knew of him, I read lots of books from the old days, but could not recount anything other than he won the Tour in the thirties. Magne, a classy but very quiet rider, was nicknamed The Monk.
He took two Tour victories, in 1931 and 34. In the '34 edition he spent 23 days in the yellow jersey. He also grabbed a second and third in the '30 and '36 editions.
If that wasn't enough Magne became World Champion in 1936 and was third in Paris Roubaix in 1930. Add to that his three victories in the Grand Prix des Nations, the then unofficial world TT championships and you have a top all rounder.
When he retired from riding he became one of the sports best ever directeur sportifs' with the Mercier Team. A top man, he died in 1983.
| | | | |
| --- | --- | --- | --- |
| Event Stats... | | | |
| Overall Distance | 108 km | Time Taken | 3:58 |
| Height Climbed | | Brevet | Gold |
| Distance Climbed | | Category Position | 15th |
| Date | July | Country | France |
| Entrants | 610 | Region | Auvergne |
| | | | |
| Website | Trophee Passion | | |