Amstel Gold ~ UCI Round 2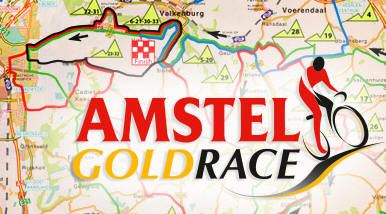 Don't let anyone tell you Holland is flat! The Amstel Gold event has absolutely no flat stretches on it whatsoever; well that's what it seemed like.
With 31 hills squeezed in to 150 kilometres you're either going up a hill or on a descent that takes you to the foot of the next one.
Some of the ups were hideous while some of the downs can only de describes as technical "and challenging". The race takes place in the bottom left hand corner of Holland and runs right to the borders of Germany and Belgium. Most of the hills become hard to recall as you lose all sense of perspective when you climb so many in such a short space of time. But one thing they all are, is steep.
My biggest problem in this event was due to a crash I had in a crit in Jersey four days before I travelled. It took most of the skin off my left side from my ankle to my shoulder. Causing me most concern was the road rash that left a graze the size of a dinner plate on my hip. It became infected, very, very warm and refused to stop weeping horrible, yellow and quite disgusting smelling pus. Nice!
The day before the race I decided to do a ten mile ride to stretch the legs and the "skin". Five miles out I get a puncture in my new Corsa CX's. My one and only of the year. The omens weren't good. However on the way back to the hotel I saw the Keutenberg and thought I'd go and have a look. Talk about kicking someone when they're down! More later.
A short Synopsis...
The organisation was okay and starts with a trip into a not too well sign-posted sports-complex. Just as well there are thousands of cyclists around. You just follow the line of people with Amstel Gold bags, hats, socks, gloves and badges in their hands back to the origin of their wares. With courses of 50, 100, 150 and 250 kilometres there is a route for everyone. And it seems everyone is here.
With an "a la francaise" start, one clever thing they have is that all of the rides go up the first climb, with an unpronounceable name, after just three kilometres. It's just long enough, and at 120 metres steep enough, to string people out. They then take your photo, while you're looking fresh, and have it ready for collection when you get to the finish. How good is that? All you have to remember is the time you passed the big clock.
You can see from the profile below that there are very few flat bits and some very, very steep bits.
After 137 kms, you arrive at the worst bit, the Keutenberg; higher than the Cauberg and a quarter of the length it appears just as your legs are crying enough. Just 12k from the finish, or a mile as the crow flies, this hill comes from nowhere. and goes up like an ice station weather balloon.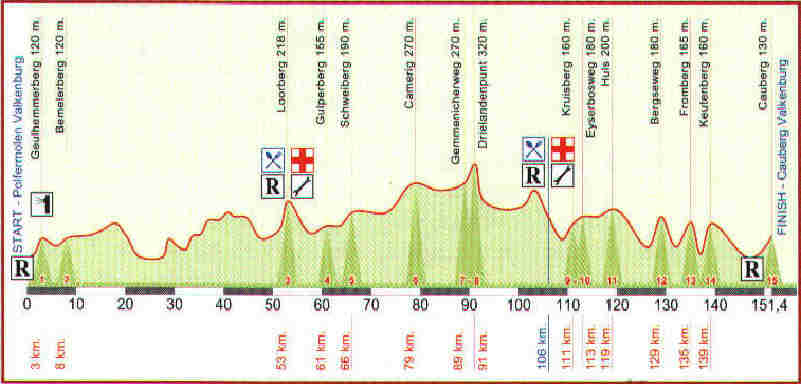 The sign at the side of the road says 25%, but it feels worse. As you reach the top with your legs burning like you've never experienced and your heart pounding through your chest you begin to hallucinate.
The field on the left has a Shetland pony, a big hairy dog, a statue of some sort and a herd of dwarf reindeer! You pass three houses all decked in bunting and people shouting at you in foreign tongues. All very surreal and not what you expect in rural Holland. However, it's time to crack on as you don't want to be riding alone to the finish.
Quickly, a group forms and the through and off starts as everyone tries to get to the foot of the Cauberg as quickly and as fresh as possible. Before you get to the Cauberg there is a fantastic descent into Valkenberg.
This three kilometre "drop like a stone" descent, flies through villages, across mini-roundabouts, other traffic calming obstacles and blind bends with those "foreign ditches" on the outside, waiting to catch the unwary. Of which, luckily, there were none.
You approach the Cauberg through Valkenberg town centre with it's packed bars and restaurants. Twice as long as Jubilee Hill, the Cauberg requires a certain mindset to get up it after 150k's.
At least you know when you get there the pain will stop and another challenge comes to an end. You also know it's a timed ascent and when you pass over the timing mat at the bottom you automatically click up a gear. Then automatically wish you hadn't!p>
Just as they do before you die, your senses become heightened and the smell of garlic sausages and frites hits you. You promise yourself some as a special reward when you make it to the top. Then just as quick as this dubious thought enters your head nausea hits you and you can't think of anything more revolting.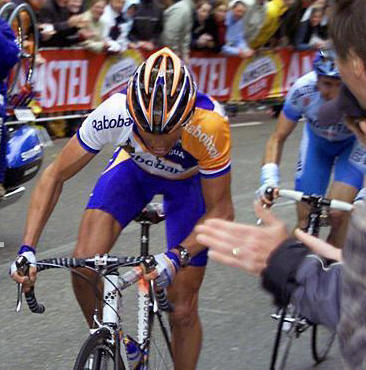 Before you realise it you're under the road bridge and you start to sprint. Not as quick as Boogerd and Rebellin passed us the next day (just managed to fire off this photo), but you give it all you've got which, at the end of 150 kilometres and thirty-one climbs, isn't a lot.
As you cross the line you're shepherded to the Casino where someone takes your timing chip and gives you a drink and a medal; a fair swap I'd say. Everyone looks pleased with themselves, food is stuffed in to your hand and you make your way to the photo tent to get a souvenir of your ride.
All in all, not a bad days ride. Next stop, Italy and the Felice Gimondi
| | | | |
| --- | --- | --- | --- |
| Event Stats... | | | |
| Overall Distance | 150k | Time Taken | 5:37 |
| Height Climbed | a lot | Overall Position | n/a |
| Distance Climbed | more then enough | Category Position | n/a |
| Date | April | Country | Netherlands |
| Entrants | 8,900 | Region | Limburg |
| | | | |
| Website | Amstel Gold | | |