Les Trois Ballons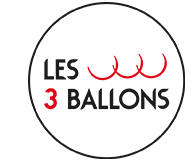 June 2014 saw a band of intrepid flamme rougers take on the mighty Trois Ballons; while I undertook the slackers event!
Held in the depth of the Vosges, which hosts a couple of stages of this year's Tour, the Trois Ballons is one of the iconic sportives in Europe.
The "Ballons", the first mountains used by the Tour de France, were first climbed as early as 1905. The roads then weren't paved, but I bet they were easier to descend!
All smiles before the off, (l-r) Simon Boyle, Mark Hall, George de Sousa,
me (helmet faux pas), Alistair Rothwell and Paul Harris.
The Routes
There are two course for this sportive. The big boys get to do 213 kms and 4300 metres of climbing, while the more normal of us, get to ride 108 kms and 2100 metres of steep upness.
213 kms, with an 8 km ride back from the finish line to the start where our car was!
Our day in pictures...
The Vosges are far more difficult climbs than many would have you believe. At one point my Garmin was auto pausing as we tried to climb a kilometre long section with ramps of over 20%! People were walking quicker than I was climbing.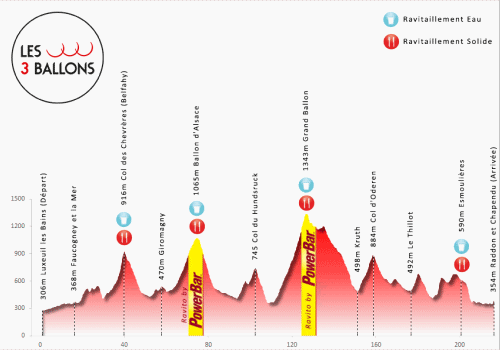 Not a lot of flat bits in that profile...
The descents were a tadge technical and attention grabbing. Although I managed to grab 93 kph on the descents, it wasn't a pleasant experience. It felt as though the heat of the summer had melted the tarmac, which had then slid down the hill, to "bunch up", at the entrance to all the tight corners.
Another side effect, was to dump loads of loose gravel at the exit of all these deceptive bends. A double whammy.
The roads are so rutted and washboard-bumpy, there was little chance to keep the wheels in contact with the ground to aid retardation. There seemed to be quite a few offs, through locked wheels, people dropping it on entry, or running wide on exit. Not nice to see.
As I was expected to be first back, and had the car keys, I needed to stay upright! So a descent-reset to "survival mode" was called for.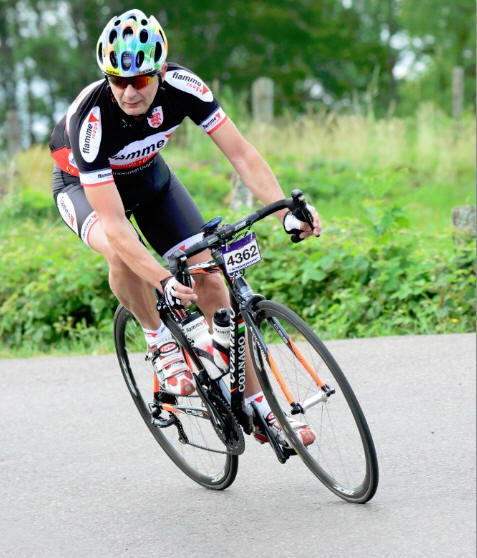 Heading for a scratch Gold Time and beating my age group
Gold Time by 90 minutes. Well that was unexpected!
So it was a case, of safely, but as quickly as possible, get to the bottom of the descents, bang out tempo on the climbs, and hang on to the big boys on the flats. Which proved troublesome on the way home.
The final 19 kilometre run in was run off at 40.6 kph. Which pleased me greatly, because I was only four seconds behind Veloflanders' Steven Vanlanker over that section.
The fact that he battered me for 20 minutes over the climbs is something I'm happy to gloss over! We rode together to the base of the first climb where I said my good byes as Steven glided past making it look effortless. If you're ever thinking of riding in glorious Flanders, he should be your first point of call.
The boys all rode a blinder, each returning with their black flamme rouge tunics caked in salt across their shoulders and back. It was a hot, hot, windless day, with little to no shelter on the climbs.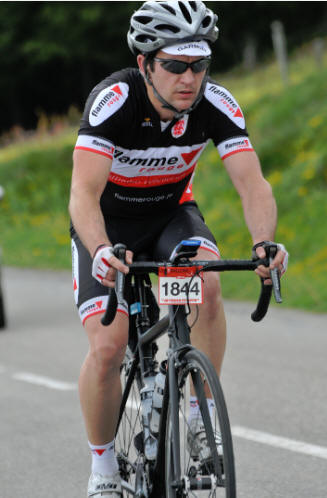 First of our intrepid bunch to return was Mark Hall (above), in an incredible time of 7:43, averaging 27.6 kph. First thing he asked for when he got back? "I need an ice cream". So we got one, and sat on a park bench at the side of the road and watched the world go by. Heaven.
Simon Boyle, was the next back, in a storming 8:52. And to my mind, looking remarkably chipper!
Although they rode most of the time together, as they approached the 20 km to go marker, George de Sousa realised he needed to get a crack on to hit his age group Gold Time.
He was in a "younger" category than his riding companion Paul Harris, who was well on track for a gold in his group. So George "did a runner" and cracked on alone, easily getting within his assigned time. Job done.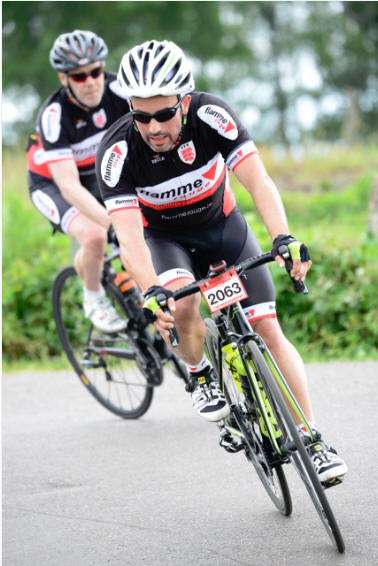 George de Sousa (leading) & Paul Harris ~ synchronized cornering
Alistair Rothwell put in a valiant effort, for some one who had probably not ridden more the 50kms in any one go in the months leading up to the event. If you have heavy work commitments, his "reverse tapering" theory should not be discounted! His time of just over ten hours was well impressive.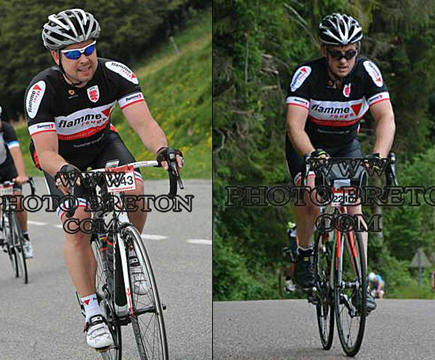 Simon & Ali ~ How they love to climb...
Scores On The Doors....
Here we have our results. A great day for riding a great sportive. Get it on your list, but check your gearing charts before you go!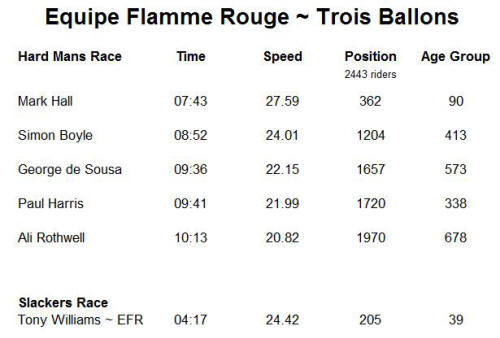 ---
| | | | |
| --- | --- | --- | --- |
| Event Stats... | | | |
| Overall Distance | 218/108 km | Time Taken | 4:16 |
| Height Climbed | 4300/2100 | Overall Position | 205 |
| Distance Climbed | | Category Position | 39 |
| Date | June 2014 | Country | Alsace |
| Entrants | 2443 | Region | |
| | | | |
| Website | Sportcommunication | | |