Trophee Passion 6 ~ Pierre Chany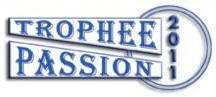 It was the best of times, it was the worst of times, it was the epoch of belief, it was the epoch of incredulity. The words a great novelist used to open a classic, literary masterpiece. Which this isn't, but it sums the day up perfectly.
A week after the Pour La Paix we find ourselves with another 8 hour drive to the Massif Central and Langeac. However, this time the burden was eased due to the fact I had to collect my Championship Leaders Jersey. That was the "best of times" bit; with just a hint of incredulity.
Let Celebrations Commence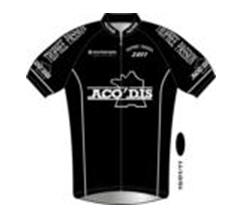 It's time to sign on, have a fitting, and collect the coveted Trophee Passion maillot noir.
When I started this adventure I was hoping for a top five championship placing.
To hold a top three position for most of the season exceeded my expectations; to be presented with a jersey as championship leader, was beyond belief and dreams. It made all the sacrifices worthwhile.
To be honest, (looking at my well covered 72 kilos frame) there's not been that many sacrifices, it just sounds a bit more dramatic with that last bit added.
Reality Bites
All signed on, I grab my goody bag and go with the organiser to pick up the race leader's jersey from the "secret locker".
As he measured me up, he went to great pains to point out the breathable micro-fibre material, the race cut, the full length zip and the overall quality of this carbon-fibre looking, cloak of stealth.
The irony of the "Made in Italy" label inside the collar was obviously lost on him. Bless!
On race day, for the start, as a championship leader you get ushered to the front of the VIP pens. There you are photographed for the websites, specialist magazines, sponsors, local newspapers and with the press dignitaries who are there in abundance. (See below).
At the off, I find myself on the front as we are shepherded by outriders through the street furniture and out of town. We exit a roundabout, go under a viaduct and hit the open road. I'm holding a steady 30kph and everyone's happy.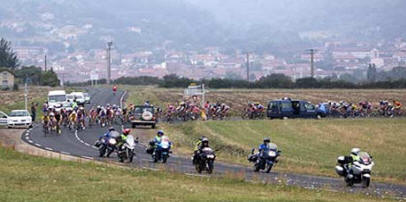 Then a tandem, with two pro-looking whippets on it, goes past at stupid speed plus a kilometre. We've less than two k under our belt and we're doing 55kph on the run in to the first climb at 7k in; a leg stinger 6%, the Montee de Bavat.

Au Revoir Fredric!
As we hit the steep ramps for the start of the climb there's a sign that says "sommet 7k". Climbing at 320 watts, my legs feel wooden and already my heart rate is over 200 bpm. This is going to be a long day.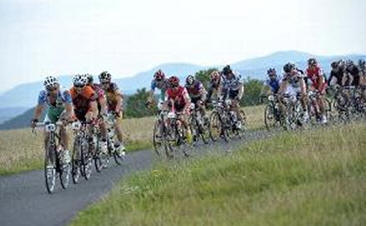 I'm slipping back slowly but keeping the leaders in view. From behind I hear an "Allez Tony". It's my mate from the Magne, Freddric Fraise, he's also doing the full championship and our paths keep crossing in our race encounters.
Fredric passes me, shouts "bon courage" and slowly disappears in to the distance. The reality of the days events that are about to unfold, hit me.
We get to the top of the climb and I'm once more hovering with the second group. There's a tiny respite of a descent, then the second surge of the Montee a St de Nay begins.
I hang on to a group of five as we pull away from those around us. I am panting hard, pushing for all I'm worth, in all sorts of trouble and pain, and absolutely bursting for a leak!
Didn't have time for my pre-race wazz before the start, so I'm now paying the price for my lack of professionalism. I desperately need to go.
As we crest the climb I drop to the back of the group. There's no way I can stop, I'll never get back on and will end up with the group behind.
So for the first time in a good few years, it's an on the move comfort break. See if I can remember how to do it.
The trick is to take your weight off the saddle to remove pressure from the "soft tissue" area and allow a free flow of liquid!
The Longest Wee
Trying to hold a line, descending at 60 kph, while steering with one hand, not wee on your shoes and hit the apexes without losing contact with the group you're in, is a tadge harder than it looks on telly.
Especially when it takes around a kilometre and a half to empty your bladder! I thought it'd never stop!!!
Anyway, enough of that unsavoury moment, wipe it from your minds, lets move on.
Fast & Furious (Then Careful)
Our group of five pushed on over the top and could see the lead group ahead. There began a 15 kilometre, fast and furious chase across the plateau. Toiletry detractions removed, I'm now absolutely flying and was conscious of the fact that this isn't the time to leave my destiny to others. I had to give it everything to get across to the group ahead. p>
WeWe'd picked up a few stragglers and grew the group to nine but there were only around four of us working and I was doing two turns to everyone else's one. As we hit the third climb, my legs came back to me and I pushed at the front setting tempo. A kilometre from the summit it started to rain, a gap opened up to the group and one rider jumped across to come with me.
As we rounded the car park on the summit there were a couple of parked ambulances! Well there's a clue!
The descent was one of the most technical I've done for a long time. I was riding carbon Hyperons with Vittoria CX's. An absolute dream in the dry, a nightmare in the wet. It was like riding on ice. Luckily there was a straight bit and I got my gilet on while descending; at least I'd be warm.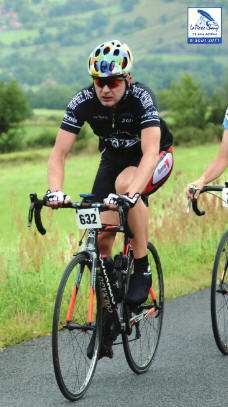 My new companion was quite a handy descender and between the two of us we made a round 20 places on the drop and saw many riders taking a tumble in to the scenery; I counted at least five unfortunate souls.
At the very bottom of the climb there were marshals everywhere as we came out of a very fast corner, over a slippery railway level crossing and in to a sharp, 90 degree, left hand corner.
My riding chum very nearly met his end right there.
How he managed to ride the wall of death and stay on I'll never know.
I cut, slipped and slithered underneath him and headed the 200 metres to the bottom of the 5 kilometre, 7% Baraque de Chaumas.
Hit the climb, gel down the throat, gilet off. Climb on.
Onwards & Upwards
I was expecting people to come across to me on the climb but they didn't. We must of pulled shed loads out of them on the descent!
I pressed on over the, now dry, top and shot to the foot of the penultimate climb. I even survived that one alone and managed to pick up, and drop, a few riders on the way.
I came off the fifth ascent and raced across the escarpment alone in to a block headwind and thought I was going to make it to the final 1500 metre obstacle unchallenged.
Just as I hit the base two riders, working together, came past me and hit the climb at full gas. I jumped the wheel held it for a bit and blew 300 metres from the top.p>
The descent was an absolute eyes-wide-shut, scream. Me with my head down, all Jens Voigt-like, chasing as though my life depended on it. They, doing everything to stay away in a two-up TT to the finish.
WeWe entered the outskirts of Langeac and my only hope is that they would mess about for the sprint. They didn't, I entered the 200 metre finishing straight as they crossed the line. Game over.
Black Day for Maillot Noir
Never have I worked so hard in a race for so little. Over an hour of the race (nearly 25%) was spent with my heart rate between 185 and 195 bpm! The result? A lowly 31st place, with points awarded to the first 30 finishers. Mon Dieu!
The fact that I still achieved a Gold Standard finishing time was no consolation whatsoever.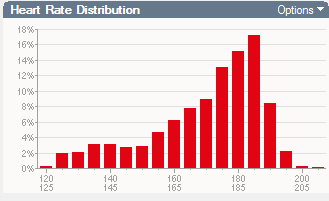 My first non-scoring round of the year and a poor defence of a championship lead. I later found out that this event is also a counting event for two other regional championships and the whole of bloody France's elite vets were taking part.
So this'll be the round that I drop then! I leave Langeac with no points and drop down to third in the championship, one point off second place and nine off the lead. It's still doable as the last two events are less mountainous and will end in sprints. Right up my street...
Dianne's Ride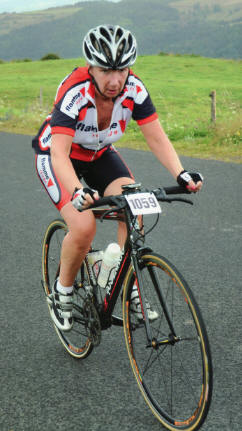 Dianne rode the shorter 55k event that had 890 meters of climbing, all contained in the one climb.
This event also doubles up as the annual French Cycling Journalists Championship, with a tricolour jersey being awarded at the end of it.
Obviously it was a little more competitive than she's used to but she had a great ride and "sort-of" enjoyed herself.
When we got the photo, I said where's your glasses? She said it was that hot she had to take them off as her eyes were sweating!
Her ride headed north, ours headed south. Two different weather systems in two different valleys. How very strange.
So a day of mixed fortunes, challenges and expectations. But then isn't that what these events are all about.
If I wanted consistency and predictability I could always stay at home and race in Jersey!
Pierre Who?
Just like Antonin Magne, there's a fair chance most of you haven't heard of Pierre Chany either; here's his wikipedea entry. These boys had a life we couldn't even imagine....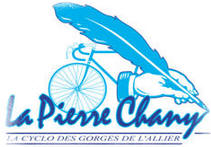 Pierre Chany (16 December 1922 - 18 June 1996) was a French cycling journalist. He covered the Tour de France 49 times and was for a long time the main cycling writer for the daily newspaper, L'Équipe.
Chany was born in Langeac, Haute-Loire, the son of a near-illiterate father who worked in the horse industry.
The family then moved to Paris, to run a small bar in the rue Guillaume Bertrand, in the 11th arrondissement.
Chany grew up there and, in his teens, escaped from the city on his bicycle, sometimes riding as far as Melun.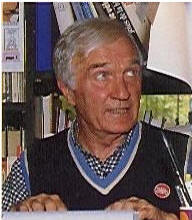 He became interested in cycle-racing after reading L'Auto, Paris-Soir and Match and looking at sepia pictures of riders such as André Leducq.
He rode several races, including the Premier Pas Dunlop event which in other years showed the talent of young riders such as Louison Bobet and Raphaël Géminiani.
In Chanaleilles, he won a cycle and a running race on the same day, winning two packets of Gauloises cigarettes.
After that he joined the CV des Marchés club in Paris. He raced for five years and then, in 1942 when he was 20, went into hiding rather than be sent to Germany as a worker.
He was arrested and jailed first at Puy-en-Velay and then Riom. He escaped - on his birthday - from a train taking him to Germany. He joined a branch of the Resistance, the Francs-Tireurs et Partisans, then joined an Algerian regiment. He was wounded three times and awarded the Croix de Guerre.
| | | | |
| --- | --- | --- | --- |
| Event Stats... | | | |
| Overall Distance | 108 km | Time Taken | 3:58 |
| Height Climbed | | Brevet | Gold |
| Distance Climbed | | Category Position | 31st |
| Date | August | Country | France |
| Entrants | 658 | Region | Auvergne |
| | | | |
| Website | Trophee Passion | | |