Sports Motivation
When we were children we all imagined ourselves to be champions or leaders at whatever it was we did. We always scored the FA Cup winning goal; we won the British Grand Prix with a smoking engine; we always, despite all the odds, pulled off a last-gasp victory. No one dreamt of ninth place or getting knocked out in the quarter finals!
Some of us still dare to dream and imagine. Others have had it "beaten" out of them by a schooling system that forces us to grow up and conform to ensure the meeting of artificial, meaningless, talentless targets.
If you're of a certain age and remember your school sports days (and teachers) to be like that from the film Kes, then here's a route back to thinking, acting and performing like a champion. If you're younger and been forced to conform, here's the key to finding victory.
Champions Mindset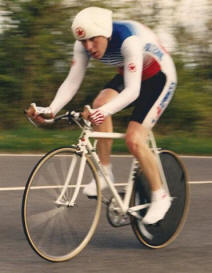 I've said it many times before and I'll say it many times again; delivering optimal race performance requires optimal training and optimal pre-event preparation. Preparation of the equipment, the body and the mind.
Here, Richard Evans, that's him in full on time trial mode back in 1989, explains how influencing your mindset can influence the outcome of many, many things, not just your race day performance on the bike.
Keep an open mind, grasp the opportunity, think like a champion and see where it takes you. What's the worst that can happen?
Over to Richard...
Feel the fear...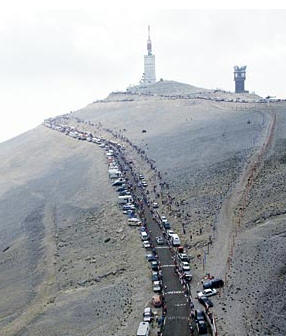 One of the difficult things about training and racing is the fear of altering your training regime, for fear that things might go wrong. So you stick to your tried and tested "safe" measures. This may work, but as often as not it doesn't. Albert Einstein once said that a mad person is someone who keeps doing the same thing, but expecting a different result.

Clever cyclists know this and get a coach!! I always thought that the famous American quote, 'If it ain't broke, don't fix it' was rubbish. I say if it ain't broke, you haven't looked hard enough. Break it!

As a clinical hypnotherapist I help many people safely 'break' it. I help smokers break the nicotine habit; fat people break their eating habits, and athletes to break their old training habits. I can give athletes the confidence to try different things to get different results.
I believe in the British Cycling ethos of looking for marginal gains, but I use it slightly differently. I understand that human beings see changes as a mountain to climb. They often never take the first step because they assume the task before them is too big to overcome.
I help them take small easy footsteps, one at a time, so that over a period of time they achieve their goals with seemingly little effort. I'm also fully aware that we are all bound, and often hamstrung, by habits learned over many years. But I'm also aware that habits can be broken easily, if the person has the self confidence, enthusiasm and motivation to want to break them.
Find the reason to change
On the day of the first LondonMarathon, I was watching it on TV. When it finished I told my wife I was running it next year. I stubbed out my cigarette and never smoked again because I now had something to do that would be hampered by smoking. It was easy.
By allowing my clients, through hypnotic trance, to access their unconscious minds, I can help them see clearly what they already really know. They begin to clearly understand what they really want and what they really need. From that they identify the small changes they are required to make to help them achieve their goals.
Negative Whispers I really believe that it is all a question of self esteem and self confidence. That voice in your head that says "I'm no good on the hills", "I hate the wind", "my bikes not good enough"', "that person looks stronger than me" and so many others, is the voice of self doubt put there to give us a reasonable excuse should we (when we) fail at our chosen task. It allows us to say, "I just knew it".
Positive Screams
Hypnotherapy can change the way this voice speaks to us. We move from a negative stance to a positive affirmation. It may for instance tell us "I have a weakness on the hills so I'd better be in the first four at the bottom of the climb." The reasoning behind this thinking tells us that "I'll still be in touch with the climbers when we reach the top and I know I can out sprint them". So instead of, "'Its all over because I'm no good' it now becomes "I've acknowledge my weakness but I'm in with a chance because I have a plan to use my strength."
Champion's within us all
I don't boast that I can turn everyone into a cycling champion through hypnosis, as this would be untruthful and impossible. I can, however, help each person find their own inner champion. The champion that lives inside all elite athletes and hides within all weekend warriors like ourselves. The champion we are are looking for every time we get on the bike to train or race.
I help people look for their own "achievable goals". It may be a PB in a time trial, or to move up from a fourth to a third category rider. I firmly believe that even though in competition we love to beat the opposition, the first person we strive to beat is ourselves. Until we give ourselves an achievable goal we will have no idea how far we are able to go until we give it a try.
When I was a runner I used to imagine that there are probably ten million people in the world who are physically capable of running a mile in four minutes, but ninety nine percent of them have never tried running so they will never know.

Nervousness or Calmness?
Some people perform better if they are super nervous and wound up like a cuckoo clock before a race. Some people perform better when they are completely relaxed.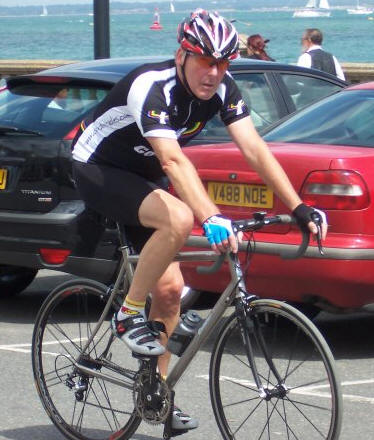 Richard Evans ~ Still looking cool today
I was one of the former so if I didn't feel sick with nerves I'd find somewhere quiet and make myself so. On the other hand if, like most people, you like to go into a race completely relaxed and full of contemplation, may I suggest you try this method? I would do this at home first, to make sure that it suits you, before you try it before a key race!

River of Relaxation
Sit down quietly with your feet flat on the floor and the palms of you hands resting on your lap. Keep you eyes open and take a deep breath and hold it for a few seconds and let it go. Take another, hold it and as you let it go close your eyes. Now listen to the noise or even the silence around you, and whatever noise you can hear just imagine it getting louder and louder so that it drowns out all other sounds. When you have done this just let it go, and use the background noise to help you relax.
Keep talking to yourself and tell yourself that a river of relaxation is gently pouring from the top of your head and slowly covering your whole body. Follow it and feel different parts of you body relax whilst steadily breathing. When it reaches your feet just let your mind drift and pay attention to whatever thoughts you may be having.
Then begin giving yourself some positive affirmations. Tell yourself how good you feel, how hard you have trained, how excited you are about the competition, you can even take yourself around the course and imagine where you might be able to make best use your personal skills and abilities.
Just lose yourself in a controlled (by you) daydream, where anything and everything is possible.
Why not try it? The more you try it the better you will become at it.
Living Proof I
I have a friend, who is a golfer, and I got him to go out in the mornings with an imaginary golf club, an imaginary ball and take imaginary shots at an imaginary green. His job was to make sure every shot was 100% accurate. I told him that this would be better than going to a practice range because he would be able to do it a hundred times a day anywhere he chose.
He was sceptical, but tried it. He is still too sceptical to think that this worked, but coincidently his game has improved no end since he tried it!! If you need a little help to open the door and let the champion within yourself come out you can contact me for a free 15 minute consultation by clicking on this link...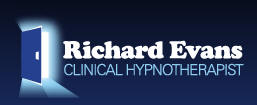 ===============================================
Living Proof II
Back to me! In the 70's (just) and 80's I was a racing driver. Racing with all the yet to be legends of the sport we know today. Power of the mind is one of the key facets of racing cars. It's got nothing to do with bravery, stupidity or cat-like reactions.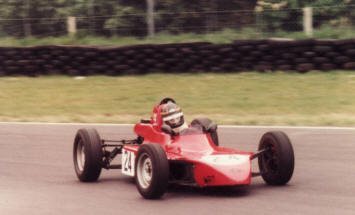 The last thing you want on the grid is an excited racing driver surrounded by 25 other lunatics who all think they're invincible and are going to be the next James Hunt. Top man Nigel Mansell beat us all to it! Now if ever there's a man who has (not had, has, he's still as stubbornly competitive today) a champion's mentality then it is Nigel. One day I'll tell you about it.

In the car, we all used a similar technique to that described by Richard above. It's so powerful as a relaxation and controlling tool that I once fell asleep in the car waiting for the warm-up lap!

Even today (thirty years later), I can still close my eyes, with a stop watch in hand, and drive an imaginary lap of Silverstone and get within two seconds of my "real time" racing lap. These things, once perfected, stay with you forever. Pay once, use for a lifetime. It's much better value than a carbon bottle cage!

If you want one final sporting example, have you ever seen the ski-racers on Ski Sunday waiting to go in to the starting hut? Eyes shut, racing crouch, imagining and feeling every twist, turn, gate, cut, curve and glide from the top of the mountain to bottom. Well all the winners do. Doesn't that tell you something.

The mind is possibly one of the most powerful "muscles" in your whole performance armoury. Your head isn't just somewhere for resting your helmet and Oakleys!

Be brave and dare to be different. The first step to the podium is taken with your head. Think on...

Where Next?
Hypnotherapy is a proven, scientifically sound application that can access your unconscious mind. Through hypnotherapy, you can influence and use your unconscious mind to turn negative feelings into positive ones and successfully make the changes you want to your performance, to your results and to your life.

Find out more about change through understanding by visiting Richard's website.

===============================================

Think you're Bobby Charlton not Billy Casper
For the greatest step back in to nostalgia for some, and a real window in to the past for others, here's the classic scene from Kes.

The late, great Brian Glover was the epitome of our PE teacher, Heffin Roberts. Roberts was a huge 6' 4," red headed, rugby playing, Welshman, teaching in a pre-dominantly Scouse school. You can imagine the stick he got with a name like Effin!

This scene is a microcosm of every sports lesson we ever had. Every game was a semi-final, and he (and his oppo, Mr Lee) used to physically and verbally tackle the crap out of us. Imagine that now?

Classic scene from a classic film that was more like a documentary than a sad tale of life in northern England in the 70's. Glover has the ultimate champion's mentality but watch what he does to the kids...

Slackers? "I've never seen such slackness".