EFR ~ Gunsite Grupetto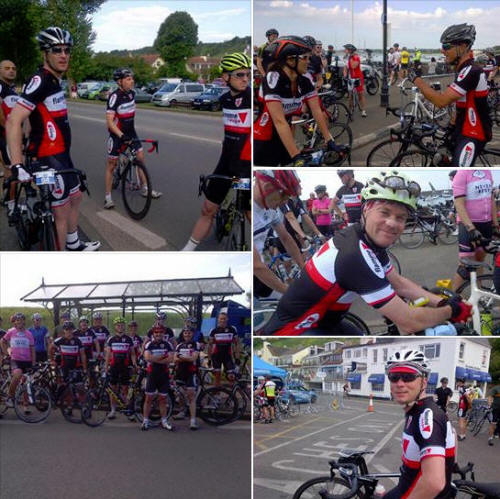 The Gunsite Grupetto is the local (well it is if you live in Jersey) contingent of the global Equipe Flamme Rouge.
A rebel alliance collective of around 80 local riders that meet every Saturday and Sunday at the Gunsite Cafe and leave at 08:30 prompt with a common purpose of training, not riding!
Every outing has a defined purpose before we start. It's not left to those on the front to decide, or made up as the ride progresses.
Wednesday's sees a time-rich subset of the Grupetto, the Gunsite Gregario's leave at 09:15 for a quick, north coast leg stretcher, before dropping back in to town, via Queens Road Roundabout, for 10:45.
This is more of a social ride, but sporadic attacks of wind-assisted training have been known to break out.
We welcome fit, safe, reliable riders, but we do have designated Road Captains, to maintain order, pace and to ensure Rule Number One, of our Rebels Charter, is followed at all times.
Just to show we can be moody and arty when the fancy takes us...
---

EFR ~ Gunsite Grupetto
Here's a summary of what the local Equipe Flamme Rouge riders have been getting up to this week...
Here's the last five rides logged by the team riders...
And here's my recent contributions to the team's totals...

---
Insurance & Disclaimers!
Sadly we now live in a world where some are looking to blame others for misfortunes that may befall them. Since our rides started in 2004, we've enjoyed an enviable safety record, and aim to keep it that way.

Should an unfortunate incident occur, it is the responsibility of each rider to ensure they have their own and adequate insurance cover.

As a British Cycling registered team, we have Third Party Public Liability Insurance for £10,000,000. This covers the officers of the team, carrying out their duties for the team. It does not cover team members, or non members, when out on rides, be they organised or social.

We are an "open" club, we do not force or expect anyone who follows us to be a member of the team. We ride on public roads and have no control over the behaviour of others.

As a minimum, we strongly recommend that all riders (not just those riding with us) take out British Cycling Membership at a minimum of Ride level, but preferably Silver Membership level.

It's important you take personal responsibility for your own actions, safety and the safety of others. You will be riding on the road, sometimes in traffic, and with riders in close proximity to you. Which subjects you to an element of risk. Although the level of probability is extremely low.

Cycling in groups is not dangerous and we do not take any risks when on the road. The recommended membership, and its insurance, is to protect you from others road users who may see you as an impediment to them fulfilling their desperately urgent tasks.

Again, we strongly recommend you take out this membership as a matter of course when owning a bicycle and riding on the public highway. If you do, please feel free to select Equipe Flamme Rouge as your team of choice.