Service Corse
~

Kit Locker

Long-time Jersey resident Victor Hugo coined the phrase, "nothing can resist an idea whose time has come". So here we are, the zeitgeist that is equipe flamme rouge. For cycling dadaists everywhere, you now have a global rebel alliance of like minded individuals. The irony is; how many rebels does it take for something to become mainstream?

Here is our current range of equipe flamme rouge kit available to purchase. Unfortunately, due to the costs of shipping from our tiny isle, not all items can be sent over the water. It costs more to send a bottle than the cost of the actual unit itself! Apologies for that, but we do everything we can to keep costs down.

Here are the items currently available. Drop us an email if you fancy anything, we'll try to get back to you as soon as we can, with price and availability...

---
Pro Race Jersey ~ £50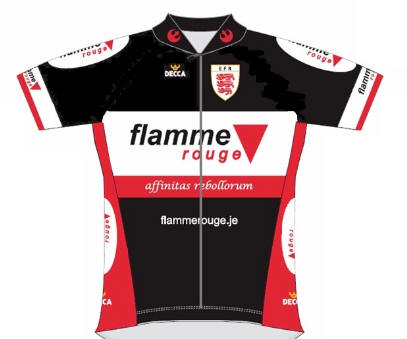 The "race" cut of the highly technical, quick-drying, pro clothing means these are very clingy, very comfortable and very efficient.
They come with an invisible, (almost) full zip, ventilated back panel and under arm area, a waterproof zipper pouch built in to the three rear pockets and are cut to fit you in race position on the bike, so a "high" front and "low" back. No flappy bits, fits you like a second skin.
Pro Summer Jersey ~ £50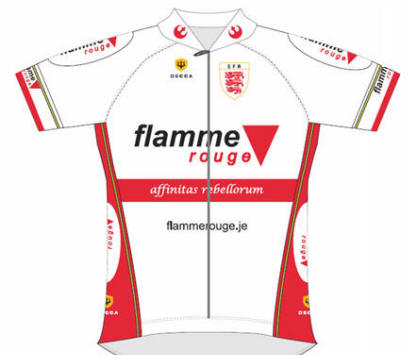 Will be available after Easter 2015.
Our official team colours are black, red and white. But for those hot summer months, in the mountains, or if you would like more visibility while commuting, we have our "summer" jersey in white. Exact same spec as the "race" jersey, just no black panels...
---
Pro Bib Shorts ~ £75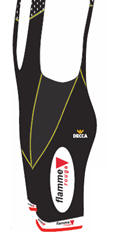 Made from compression "power lycra" with ventilated braces and a "pro", seamless, anatomical chammy with welded seams.
These shorts can best be described in quality as somewhere between Castelli/Gore's finest and Assos. These are a lot of short for the money, as we keep costs low, but not the quality.
If you were buying shorts of this quality in the shops, you're looking at £100-£120.
Very clingy, very comfy and very sporting chic (I've been told)...
---
Pro AeroSuit ~ £100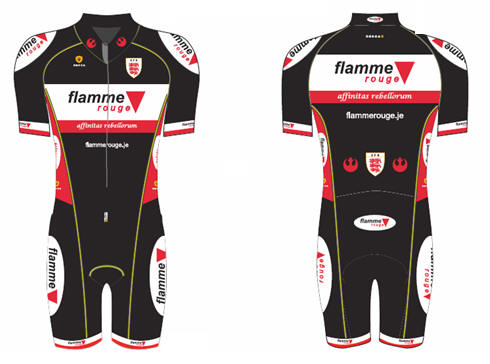 The ultimate in wind cheating clothing. Never mind spending a fortune on an aero bike that gives slight aero advantages in a wind tunnel without a rider on it.
You are the biggest thing on your bike, and you present the greatest surface area to the elements, therefore causing the biggest drag. Aero yourself, with our "pocketed" skinsuits for the price of a pair of tubs. Same spec as our pro jersey and pro shorts, but in one combined "suit".
Not just for time trials, use them for road races, crits and circuit racing. Check out the pro riders, all the sprinters are now "aero"; especially Katusha's Kristoff who has the exact same garment but the team design isn't as good!
This suit, paired with lycra overshoes is by far the cheapest way to go faster for less drag...
---
Elite Windstopper Gilet ~ £45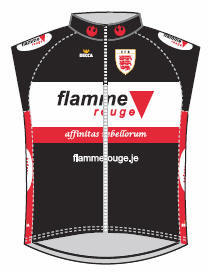 Windtex membraned protective front, with breathable mesh fabric at the back.
Gives you the best of both world's. Light, versatile and stores in its own pocket.
These are a slightly more "relaxed" cut than the pro jerseys, to allow them to be worn over jackets, race jerseys etc.
Gives that added layer of protection on those cool or damp early morning starts; can be worn over/under a jacket to give an extra layer of controllable insulation when it's really cold.
The one essential, four season, piece of kit every rider should have.
---
Multi-Use Bandana ~ £10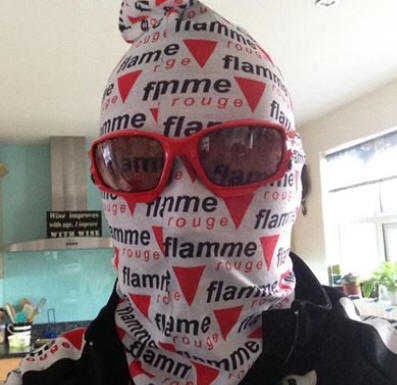 Designed by us (Mick Heald, above), manufactured by giraffe; these multifunctional garments are as versatile as your imagination.
Manufactured from soft-to-the-touch Coolmax microfiber, these garments are almost magical in their qualities. They are windproof, breathable, non-restraining and comfortable to wear.
They quickly wick water and sweat away from the skin. So they keep you warm in winter and cool in summer. They also offer UV protection, and are ideal worn under a helmet, to protect you from the sun. As well as soaking up sweat, they protect you from wasps!.
They are machine washable, on a gentle, cool cycle, with mild detergent; but do not iron.
---
Team Issue Socks ~ £5 per pair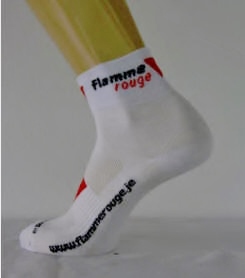 Made in the EU by Moose, these comfortable and durable team issue socks are constructed from the latest materials.

Sizing...
Small ~ 4-5 (36-39)
Medium ~ 6-7 (40-41)
Large ~ 8-9 (42-43)
X Large ~ 10-11 (44-45)

As a staunch traditionalist, these come in white only and are "normal" ankle length!
You wouldn't catch Merckx and Hinault (or me) riding around in long black socks!

---
Washing Instructions
Okay, not that I've ever washed anything personally you understand, I did marry a domestic goddess after all. Here's the top five kit-washing tips I've given Mrs flamme rouge over the last twenty years...
▼

Do not use fabric conditioner

~ it "loosens" the lycra



▼

Max 30 degs water temp

~ or arm & leg cuffs "stretch"



▼

No Tumble Drying

~ or arm & leg cuffs "stretch"



▼

Turn all garments inside out ~ stops snagging



▼

Close all zips ~ if it grabs, it'll break sooner or later



▼

Put all gloves inside an old pillowcase ~ velcro eats lycra



▼

Check for mobile phones ~ it saves rider-sulks later on