Bike Fitting Service ~ £20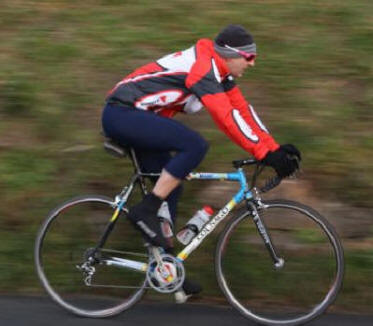 Bike fitting is an art, not a science. Until now you couldn't see what you looked like on a bike unless you found a photo that wasn't quite at the right angle or had caught the pedals in the right position.
All that's now changed.
What do I get?
A lot of people come in sitting comfortably but aren't sitting right. Most come in uncomfortable and obviously wrong. We've seen bikes too big and bikes too small. Generally the bikes are okay, everything's about right, it just doesn't flow. And that's where the art comes in to it.
Before we start, every facet of your bike is measured and explained to you, so you understand the implications of any change being proposed. Changes are only made if there is an obvious need.
Comfort, efficiency and effectiveness will always override the science of best-fit. There's no point being 10% more aerodynamic for a 25 mile TT if you can only hold the position for 45 minutes!
After an hour or so, you'll have a better understanding of what you like, what you don't; what you need, and what you can do without; and what you look like going out the door compared to what you looked like coming in.
Not only will you be able to feel every change, you'll be able to see it. We have front and side video cameras displaying on our plasma screen so you can see yourself as others see you. It makes a world of difference.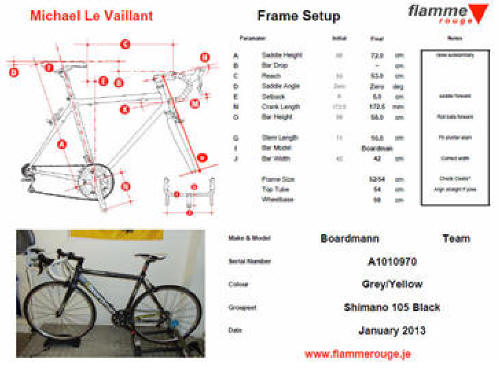 Once we've finished fine-tuning, we then take all your measurements again, record them on the setup sheet above and email it to you for your future records.
After an hour and a half, you go home and try out your new position. And we go away to complete another 30 minutes admin work with a little fee for our time. Everybody's happy.
It would take too much space and give away too many secrets to tell you what we check and how we do it. Trust me, there's a lot.
It's worth the price just for the tea, biscuits and cycling related gossip. Never mind the peace of mind for having enough key information recorded, photographed and documented to satisfy your home insurance security requirements, for one of your most prized possessions.
It's as though the speed, power and comfort benefits you'll immediately gain, are all for free.
What people say...
Can't thank you enough for your time, two weeks in and various aches and pains are now almost non existent. Now managing to build up the distances, happy days.
JS

Hi Tony, just successfully completed the 1000 mile LEJOG (Lands End to John O'Groats) and I would like to thank you for setting up my bike before my departure. Your advice and adjustments to my riding position meant I was comfortable for the whole trip, no shoulder/neck ache which I was getting previously. Thanks again.
TH

I've even had Strava Queen of the Mountains dedicated to me!
How nice...