TT Timings & Strategies Schedule
Our flamme rouge TT Timings & Strategies Schedule has been specifically designed to help you get the best out of your Time Trials, or any set distance event. With it you can get all the information you need to get that elusive PB or season's best.
Who's it for...?
If you have a Time Trial coming up, or just want to play with some numbers to see how much harder and faster you need to go to get that PB, then here's your first port of call.
Or, if you are riding a sportive or challenge ride and want to know how fast you need to go to cover a set distance in a set time, and what gear and cadence you need to use to do it, then this document is for you.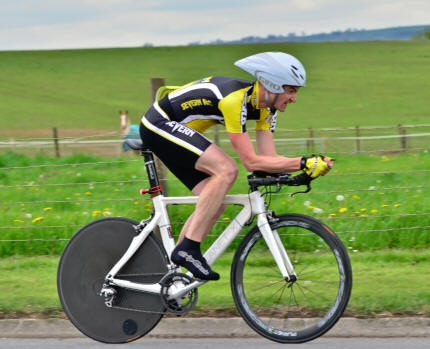 Andrew Derrick
on the way to his second "sub 22" PB of the year
How it works...
Devilishly simple, you just enter the distance of your event, your current time, your target time and your, normal, average cadence.
The work sheet will then tell you what gear you need to push, and at what cadence, to hit your target time.
It will also tell you how much faster you need to go in seconds, mph, kph and meters per minute!
It will then give you a "target time" in which to cover a mile or kilometre and at what speed. You can even, set your split percentages, to give you an out and back target, should you need or want one.
It can't make your training any easier, but it can give you all the information and support you need to help you target your training in a more professional and business-like manner.
For instance; if you want to do a 10 mile TT in 25 minutes dead, you need to ride at 24 mph, or cover a mile in 2:30. Can you do that?
It's the same for a 25 mile TT and hitting the hour. Can you cover a mile in 2:24? You'll need to push a 53 x 15 at 96 rpm if you do. Did you know that? Because this programme tells you that as well.
If you know your objectives, but aren't sure of how to set your training to meet them, why not try one of our TT programmes to help you towards a new PB or season's best.
If your training is up to scratch but you still "struggle" to cut those elusive few seconds from your current time, have you looked at your start procedure? Vital seconds can be shaved from your finishing time by paying attention to your starting time. Here's how...
If you would like your free TT Pacing Strategies Schedule, just email us by clicking here and we'll send one to you by return.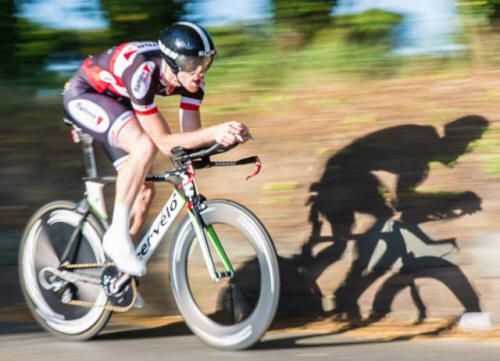 What you get...
An ingenious spreadsheet that you can play with until your heart's content. All you then have to do is go away and work out how to change the numbers on the page in to reality.

That's where the real suffering starts!

What it costs...
Nothing, it's as free as the air that you breath. All that will happen is (unless you already subscribe) we will add you to our monthly factsheet mailing list. Here's our Privacy Policy should you wish to view it.