How Do I ~ TT The Stelvio?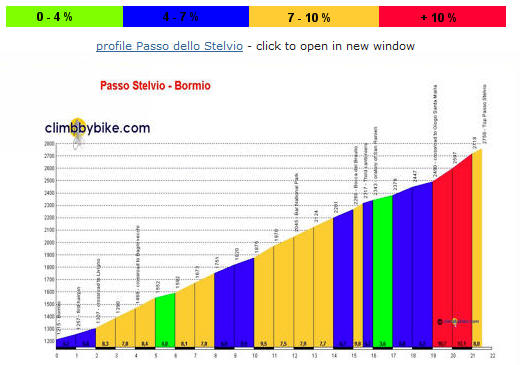 As you can see, it's a climb of many parts and colours!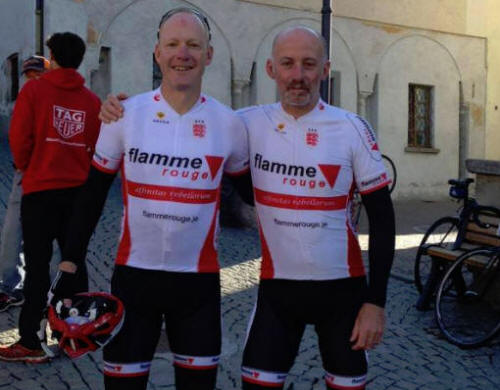 Graham Horesley & Paul Mauger
half-way point of Haute Route Dolomites; a Stelvio TT!
Section One 0-6 kms
It would be so easy to get "sucked in to a race" on the first section; the first six kilometres. You're already at altitude, so your power output is going to be down around 5%.
As there's not much chance (to be frank) of beating the hour on this one, at no point whatsoever, should you go above your sea level FTP on this part of the climb. Keep your powder dry!
You're probably looking at your best 60 minute power output (check your Strava profile from the days stages before) then come in at 5% below that as your average power for the whole climb.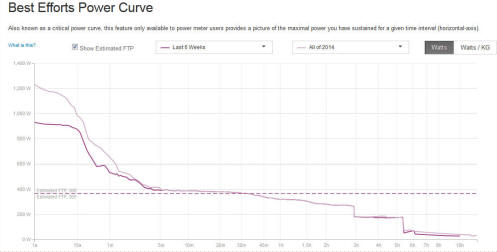 Section Two 7-17 kms
At the end of the "recovery" section of 4%, the climb ramps up fairly consistently for the next 7 kms. The average wattage by most of the "good" climbers in the 65-74 kilo range, are banging out 240-260 watts in this area.
Compare this with your output and use a judgement call to see if it's sustainable for you. Bear in mind, these were probably one off efforts, not as part of a Stage Race!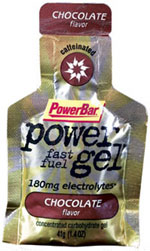 You want to go to the edge of your aerobic ability, but not over it. At this point, there is less density of oxygen to help clear lactate.
Going too hard in this section will seriously debilitate you on Section Three, where neuromuscular power will help you punch out of the hairpins; but not if you're in oxygen deficit and lactate overload.
So keep within your limits, you should feel you could go a rev faster at this point, but try to fight it. Losing five seconds a kilometre here is acceptable. You can reclaim this out of every bend when you get to the steep ramps in the next section!
Use the last kilometre of this section to spin the legs and rebuild your reserves, now's the time for that caffeinated gel. Stick it in the leg of your shorts so your body warms it up and makes it runny and easier to swallow and digest.
Section Three ~ 17 -19 kms
This is where "progress" is made and where you recoup (and more) the lost ground on those that either underestimated the climb or over-estimated their abilities. Four minutes can easily be reclaimed, or gained, in this next section alone.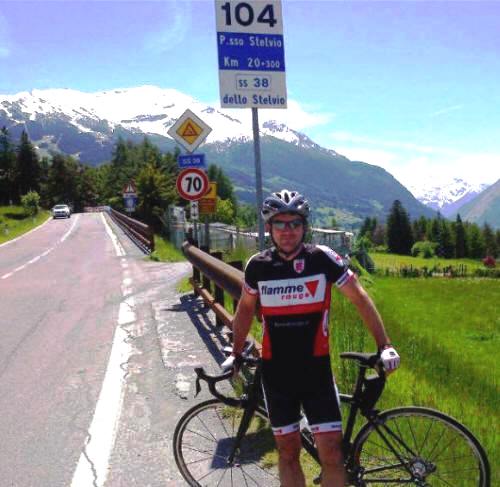 Mark Hall about to tackle the intimidating and glorious Stelvio
You should be looking to average around 13+ kph at this point. On the limit, but not over it. The section that comes next, the red section, brings 2 kms averaging 11%. To gain ground on the eager over achievers, this becomes section a neuromuscular battle. Probably out of the saddle as much as in it. Yes it hurts, but pain is temporary, victory is forever.
Section Four 19-21 kms
Those that went too deep in the early sections will lose shed loads of time here. It's all too easy to come to an almost oxygen-deficited, stand still. This is Ventoux, Hautacam, Tourmalet steepness territory, but at almost a 1000 metres higher.
So try to limit your heart rate and shallow breathing, keep a nice rhythm, breath deeply, and use your muscles to climb, not your lungs. With around twelve minutes to go, you can now try to keep your wattage above your FTP. But not by much, there's still a risk of blowing.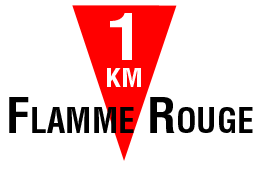 Final Push
Once you clear the final kilometre marker, start to pick up the speed one rpm every 100 metres or so.
Don't race it; just wind it up to keep everything under control.
If you can sprint the last 200 metres, you haven't gone hard enough up to that point!
Points to Remember
Eat before you're hungry, drink before you're thirsty. Always take a sip of drink at every hairpin. This goes for all climbs.
Get a caffeinated gel down you on the second green section at km 16. Maybe a standard one at km 4?
Take a look at a realistic time in which you think you can finish, then get an average speed in your head. When climbing the days before, try to correlate this speed with a power number.
Aim for this power band in all the yellow sections, which is the majority of the climb! For the flat bits you'll naturally be faster, for the steep bits, obviously slower, but it will balance out.
Also remember there are..
▼ Those that let things happen

▼ Those that makes things happen and

▼ Those that say "What happened?"
Good luck, have fun and remember to look up and enjoy the view every now and again!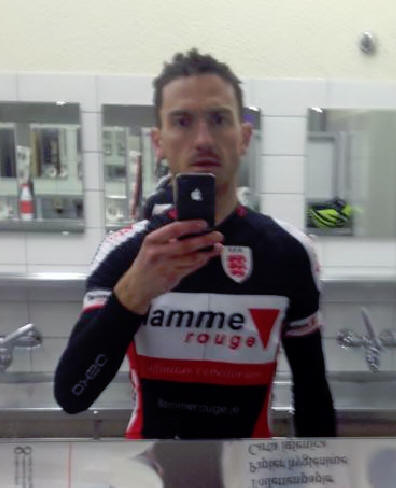 This is what it looks like to "suffer well" in the 2014 Haute Route Dolomites
Mike Jones ~ Helmet hair, frozen, 1000 yard stare, victorious!