Athlete Testimonials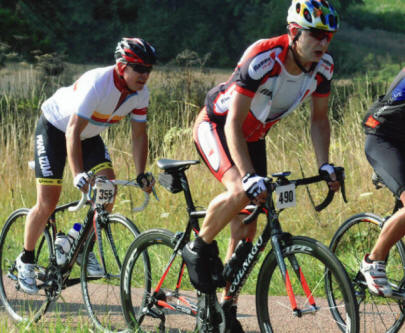 Cour Pour Le Paix ~ Under Pressure...~ Situation normal!
I always said I'd never do this, as we offer a totally confidential service, but a lot of the riders we have the pleasure of working with have been sending me emails and updates of their progress throughout the years and asking me why I didn't have an outlet for their messages.
Reluctantly, but thankfully to them, here it is. And I'll say here what I normally say to them. Writing a performance programme is the easy part. It's the banging out of the sessions when it's cold, it's dark, it's wet and/or life's little distractions are constantly trying to deflect you from your chosen path, that bring the end product.
Be it a personal best, a race win, or a championship trophy. It's the dogged determination and ability to get on the turbo, or get out on the road, and give each session your best shot, that brings the results. It's the riders' efforts that bring the reward of the blood, sweat and gears of effort and toil.
Each person here has taken a collection of words and numbers from us and turned them in to actions and results of their own. They truly are inspirational and every day working with them is a pleasure you just can't get in the corporate world.
Here are the results of the aggregation of marginal pains...
---
Your prices I think undersell you, I could not afford these coaches who charge £50-£100/month, what more than you would they do? I like your science, I like your contact and your advice - genius, hats off to you.
RS ~ UK

If you don't have a plan, you will be a stepping stone for those that do!
Rob Nickerson ~ Arizona I am reaping the benefits of all my sweat and suffering to all of your devilish intervals.
SL ~ USA

I love your standard of professionalism!
AH ~ France

Seems like you guys know you are stuff and cost isn't prohibitive....Considering to be honest, that I have paid 4 times what you charge for the same service...
MB ~ Canada

All I can say is that the weekend warrior plan was (i) worth every penny, (ii) gave me a much better understanding of "limits" and how to push those/develop sustained higher levels of power and (iii) was bloody "enjoyable", if you know what I mean... just about threw up after that turbo session, but lovin it....thanks
AB ~ Switzerland

Would just like to thank you Tony for your time, your expertise and the training programs you have provided me. What I achieved today was beyond my expectations.
GL ~UK

I had a fantastic trip to the French Alps! I followed your training programme and was able to manage all the climbs we did so thank you for providing a great training programme!
JC ~ UK

There were also some riders on a training ride that I did towards the end of June who were slightly better than me and now after a doing a ride with them again I think I'm definitely better than they are and I know they've been training quite a lot as well!

Anyways that was just a long winded way of saying thank you and that I am feeling a lot more confident of my abilities...
DM ~ UK

...it was great to see people go past me at the start but over the 11km timed section my Flamme Rouge training came through and I reeled them all back !!!!!
TO ~ UK

I could not have ridden a harder race though and 4 of the riders from our pack of 40 thanked me for being 'the engine' for the last 40 miles!
JW ~ UK

I have been spending some time looking for some good information on how I go about making myself an all round better cyclist. Probably like most cyclists, I have found much conflicting, confusing and someone useless information. To date your website is by far and away the best I have found anywhere. Congratulations.
CR ~ UK

...its been great doing your training plan. I've enjoyed every minute, in such a short time of using it I won my first cross race and managed a 3rd in London a week later. So yes, it worked well for me. Can't thank you enough.
KJ ~ London

Put a wrap on the TT season with a bronze medal and PB on the course... I am pleased with the way the season has gone - lots of highs and personal bests
DG ~ Canada

When I was making myself feel ill on the turbo a few weeks ago, You were close to being a sworn enemy. Today, I could marry you. Before you climb a Col, it's not possible to have any idea what its like to climb a Col. Now I feel like I could sit at the bottom of any hill, and ride up it.

I've done, Croix de Fry, Aravis, Les Saises, Cormet de Roselend (personal fave, especially Le Barrage), Col Le Petit St Bernard, Madaleine, Telegraphe, Galibier, Alpe D'Huez, and today Glandon and Le Croix De Fer. Will you marry me?
PD ~ New Zealand

Another race and another verification that I am in good form. I can see around me riders that before I only saw in the start and at the end. Today a hard race. Start 111 riders and finish only 67, I was one of them. 44 out of control or retired.
XN ~ Spain

Want to congratulate you on actually writing meaningful and useful information on Flamme Rouge. Even as a pro rider, my coach tells me to go read up on Flamme Rouge articles. You get some sites these days with useless info, this site is an exception. See you on the road.
JR ~ South Africa

I feel to be going better now than ever before, all thanks to your advice
FC ~ UK

Finally you are underselling your Self Coach Manual. Its worth waaaay more than £15.00. I would have gladly paid £50.00 for this type of info
DT ~ UK

Thanks for being so prompt – your customer service matches the websites thoroughness and sheer "excitement" you obviously bring to the sport! Thanks again, makes "regular Joes" like me really excited for layin' down the hammer on our friends.
EP ~ California

There is a wealth of information in there and everything is well integrated. I particularly like the variety in both the road and turbo sessions, as there's nothing worse than banging out the same session week after week.
PH ~ UK

My first impression - those workouts & supportive info are awesome.
LJ ~ Malaysia

It's amazing. Since I started training with you I am doing a lot less hill work yet I feel twice as fit and when I hit a hill I can do it a lot faster. I spent far too long slogging up steep hills thinking that was how to prepare for them.

I could not work out why ????? was so good at hills living on Jersey. Now I know why! RW ~UK


---
I truly believe (because I've looked) that you won't find a better value for money performance improvement proposition than our flamme rouge Athlete's Services. So go on, why not sponsor yourself for the winter or just for a specific event?

If you're spending a couple of grand on your bike, hundreds of pounds getting to your events, and hours without number riding the road and turbo, then why not splash out just a little on your own personal development. Something that gives a cast-iron guarantee of performance improvement.

Try spending £30 on a bottle cage and see how much faster you go!

Check out the range of services we offer, which are directed purely at the dedicated, non-professional, weekend warrior. Obviously, some services, by definition, are only available to Island residents, but if you like what you see, no matter where you are, please get in touch.