Epic Challenge Programme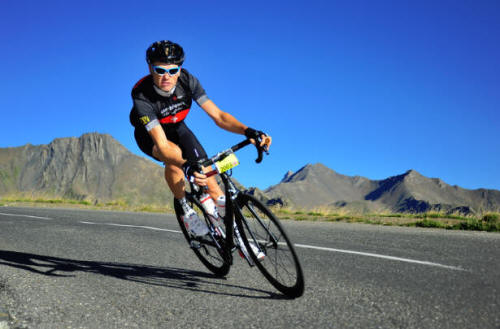 Haute Route Sportive ~ They don't come much bigger
Rich Cawthray ~ on top of the world...
The flamme rouge Epic Challenge Performance Programme, is a tried and tested, pre-configured, series of on and off the bike, drills and sessions, that require, and offer, no coaching interaction.
Who's it for...?
If you are confident in following a dedicated programme, designed specifically to get you fitter, faster and stronger, to tackle some of the worlds biggest multi-day events, then this is the product for you.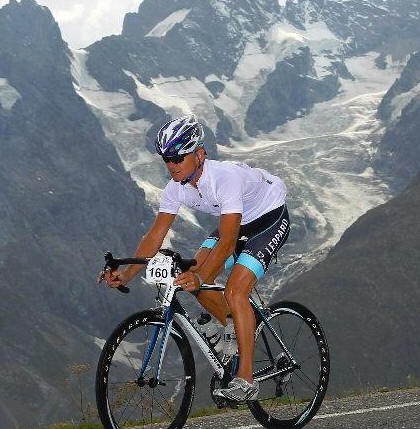 My gone, but not forgotten mate, the late Martin Baudain
mullering the inaugural Haute Route event
Haute Route, Raid Pyrenean, Trois Etapes, Girona Gran Fondo, Ride Across Britain, in the recent past, we've helped riders excel at them all.
The needs of a multi-day event are different to the "big-bang" approach of a single day event. Please don't think you can do a one day programme and repeat it seven times! If only life was that simple...
You don't need a heart rate monitor or power meter for any of the workouts within this programme. But if you have either of them, there are specific target zones and parameters within the sessions, for which you can aim.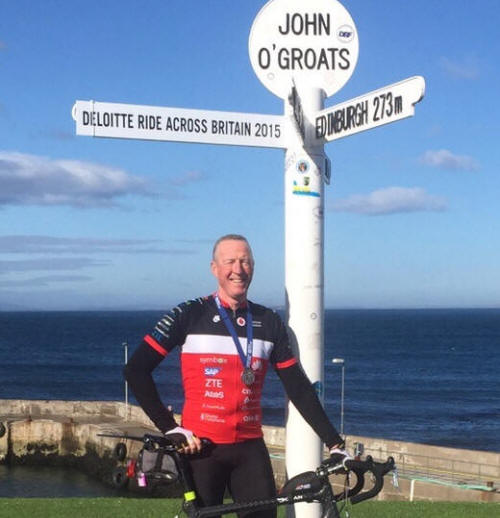 Steve Whalley ~ Deloitte Ride Across Britain Challenge

What does it cost?
The price of this Performance Programme is just £50 (approx US$78). 
What is the duration?
The duration this Performance Programme is 20 weeks. But, as with all our programmes, you can reconfigure it, to be used as many times as you wish, to run from whichever date you wish. 
Purchase A Programme...
If you think this flamme rouge Performance Programme best suits your needs, please click "Buy Now" so the adventure can begin.
If you're not sure, drop us an email (contact details in the footer) and we can discuss options, or tailor something more specific.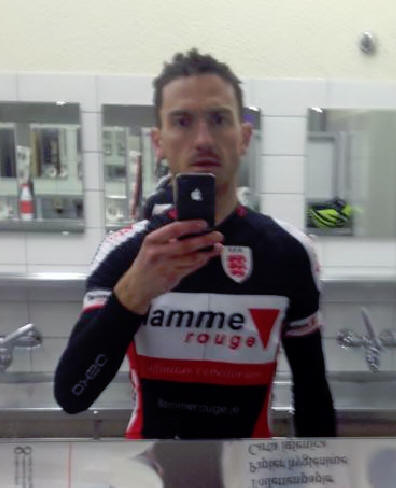 Local Legend ~ Mike Jones
Rode the last stage of the Haute Route Dolomites "a la Contador"
with a stress fractured leg! 
What do I get?
You are not purchasing a "follow these instructions" training plan. Our value-driven, "re-usable and re-configurable" programmes and manuals are the equivalent of small books, written just for you. Our 20 week options are around 45 pages with our 12 and 8 week options 35 and 25 pages respectively.
You get all the information you need starting with, how the programme works (and why), access to an ever-growing library of Frequently Asked Questions, and your own personalised Heart & Power Zones and physiological markers.
There's a "predicted" Performance Timeline, an at-a-glance Programme Overview and a chart showing your forthcoming Training Load and Intensity Levels, allowing you to predict and track your fitness gains.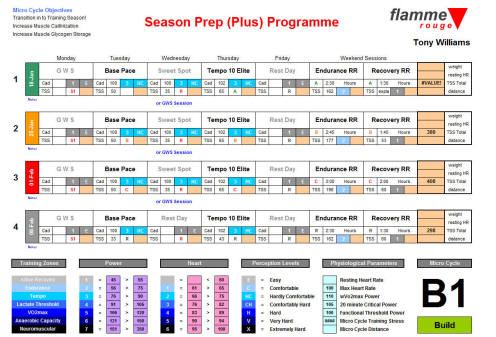 Each Micro Cycle has a clearly laid out plan of which sessions to tackle, when and at a level of effort that best meets your needs. There is also a clearly defined list of the three objectives and benefits you will gain from the sessions you are undertaking. If you are to give your all for these sessions, then surely it's important that you know why you're being asked to do them and what benefits you will directly gain from doing so.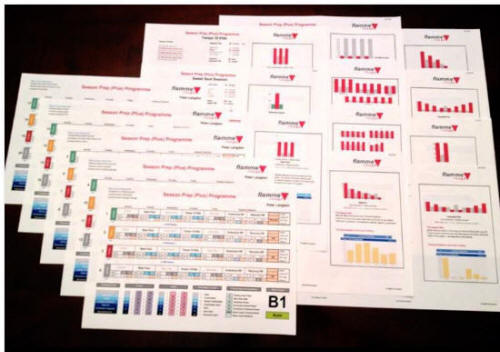 To complete the package, there are optional Gym, Weights & Stretching Workouts, and information pages on how best to prepare for road and turbo sessions, with further guidelines on Race Preparation and Recovery.
In short, you get a comprehensive breakdown on how to best prepare for whatever discipline, objective or event you have identified as important to you.
How it works...
Once you've selected your programme, we'll send you a short questionnaire to complete and return to us. We ask for your min/max heart rate, and/or your VO2max or FTP wattages if you know them.
There's also a few other physiological questions about height, weight, age, available riding time, etc.
In line with your responses, we will personalise the programme's drills and sessions with perceived exertion levels, heart rate zones, power zones and cadence guidelines.
Start to finish process takes around three to five days.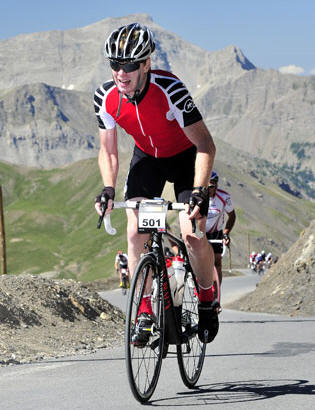 Haute Route Sportive ~ Harder than the pro's
Dave Young ~ enjoying the view...
---
What people think...
Here's just some of the feedback we've had for this programme.
Now that the dust has settled after the Haute Route I thought I should let you know what a great job you did in preparing me for the event. You asked what my goal was before devising the programme. I said I wanted to be fit enough to complete and enjoy the event and that's exactly what happened.

Until now I never really 'enjoyed' climbing mountains, I just struggled up them. What a great feeling it was to climb within myself without panting and gasping!

My mates couldn't believe the improvements they saw in me.....but left it till the penultimate day to tell me :o).
Dave Young ~ UK


I am still as high as a kite post Haute Route Alps!!! Your training plan delivered exceptional results, that surpassed my own ambitions, secret ambitions and dream placement.

I came 25th in what was an incredibly strong crowd.
THANKYOU so much for your program...
Rich Cawthray ~ Switzerland